coolbrze
49 Posts
1
August 27, 2019 - 3:22 am
The scratches on the trunk are bear damage from a few months ago... Are these Woolly Aphids on my apple tree & if so, how do I eradicate them?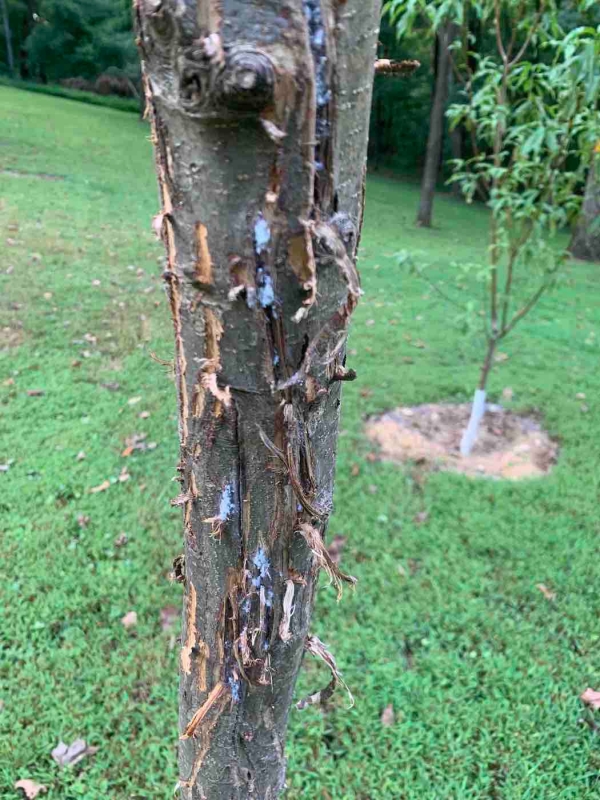 John S
PDX OR
2593 Posts
2
August 31, 2019 - 9:44 am
They do look similar to aphids I get from time to time in my orchard.  I will brush them away.  I think that eventually, before they get really bad, ladybugs, syrphid flies, minute pirate bugs, lacewings, etc  (the cavalry-per Elaine Ingham) come to reset the balance of nature, as Rachel carson would have it. 
I don't want to get rid of 100% of tiny pests because that's what keeps the cavalry around.
Works for me.
John S
PDX OR

buzzoff
84 Posts
3
October 23, 2019 - 3:51 pm
They look very much like woolly aphids.
Squish 'em with yer finger.  And  spray  'em with warm water containing a dash of dish washing detergent.
Woolly aphids, as I recall,  repel soapy water more effectively, than ordinary aphids.  So....  a few repeat treatments may be required.
But!  To my way of thinking, that isn't your major problem.  The trunk of your tree is damaged, and the aphids are just feasting on the easily available sap.
It looks like either a kitty cat is using your tree as a scratching post, or your tree is being attacked by Anthracnose (or some such thing).
Treat with Lime/Sulfur, Some kind of Copper, or Neem.
Oh, I reviewed.  Bear damage?  Are you sure?
Forum Timezone:
America/Los_Angeles
All RSS
Show Stats
Administrators:
Idyllwild
Moderators:
John S
Marsha H
Viron
jafar
portlandian
Top Posters:
Rooney: 684
DanielW: 519
PlumFun: 495
Reinettes: 375
davem: 312
Dubyadee: 222
gkowen: 218
sweepbjames: 212
Larry_G: 151
quokka: 148
lelandzeller37
jaredgooseberry
kelleelamond96
ermabarrenger0
eloise3572
odettecardin147
jedodowd18
woodrowkleiman
terriheathershaw
allenmartens8
Forum Stats:
Groups: 1
Forums: 4
Topics: 2811
Posts: 15714
Member Stats:
Guest Posters: 0
Members: 7099
Moderators: 5
Admins: 1
Most Users Ever Online:
232
Currently Browsing this Page:
1
Guest(s)