Topic RSS

What's Happening in the Orchard?
August 15, 2020
10:50 pm

GH
Battle Ground, WA
Forum Posts: 66
Member Since:
December 30, 2017

Offline
Since there doesn't seem to be an orchard topic for 2020, and since it's already August, I've decided to get one started. 
My apples and Asian Pears seem to be smallish this year.  I'm hoping that it's too soon to make that judgment, since most of them have a couple of months still to go; but it's more than a little disconcerting to think that it might be just an OK apple season.  Wynooche Early apples, which are almost ripe, are a decent size, so who knows.
There are three Japanese plum trees in the orchard.  Sadly we only got three Shiro plums this year, due I think, to a cool and rainy spell at flowering time.
We have Hosui Asian Pears this year, for the first time!  The tree was planted in 2012, the fifth tree that we planted in our orchard, but it had never produced.  Although it's a beautiful tree and has gorgeous blossoms every year, it had always succumbed to Blossom Blast.  Thank you, John, for suggesting compost tea in other posts.  I used it for the first time this spring, once just before blossoms opened, and another just after they finished.  Success!  There was a little damage, but minor enough for pears this year with only a few small dead twigs.
It's enjoyable to hear about other people's successes and failures and everything in between, so how is your orchard faring this summer?
August 17, 2020
2:44 pm

jekahrs
Forum Posts: 66
Member Since:
June 19, 2018

Offline
Not many plums. I had a few plums on my four way plum, but not many. One of the branches/limbs has leaves that are reddish. It is on the sun side. Sunburn or root issues? No need to cover fruit. All my grafts failed so my espaille tree has only 3 branches. Not sure when to pick. I tried to thin my apple tree and the apples are the largest they have been. I tried fruit sox to prevent apple maggots but so far the result is spotty. The apples with sox that have fallen all had apple maggots. I think those fruits fall first. Ones on the trees may be OK. We will see. People who go by are fascinated. I think the sox will prevent human predation.
My yellow raspberries producing a second crop. The best I have seen so far. My Canby raspberries have struggled to get established. Not sure why. But some did produce and they were tasty. Currents were a total failure. Maybe too much in the shade. Yellow jacket nest by one blue berry and they sprayed really toxic stuff (I tried non-toxic). Blue berry right next to yellow jacket nest is dying. Plan of removing soil before rains and throwing it away in the trash can. Plan a new blue berry.
Veggy garden was a disaster. Bought plants that were too small and planted them two weeks late and didn't prepare soil right. I need to have almost pure organic soil it seems. I will have my neighbor help me next eyar.
August 17, 2020
6:46 pm
davem
Forum Posts: 146
Member Since:
March 27, 2015

Offline
My main focus this year was finishing this grape arbor.  I have been working on it off and on for about 6 years.  Timber frame construction is a great stress reliever.  Although it is also somewhat stressful because if you screw up you can't just run to Home Depot and find 6x8 juniper timbers.  Also the timbers are fairly rough (milled unevenly, bows, twists, rotten spots etc.) so you have to hand fit each piece.  I was hoping to have a small "barn raising" to raise the bents etc. but with covid I ended up using leverage + a come-a-long, with a bit of help from my kids.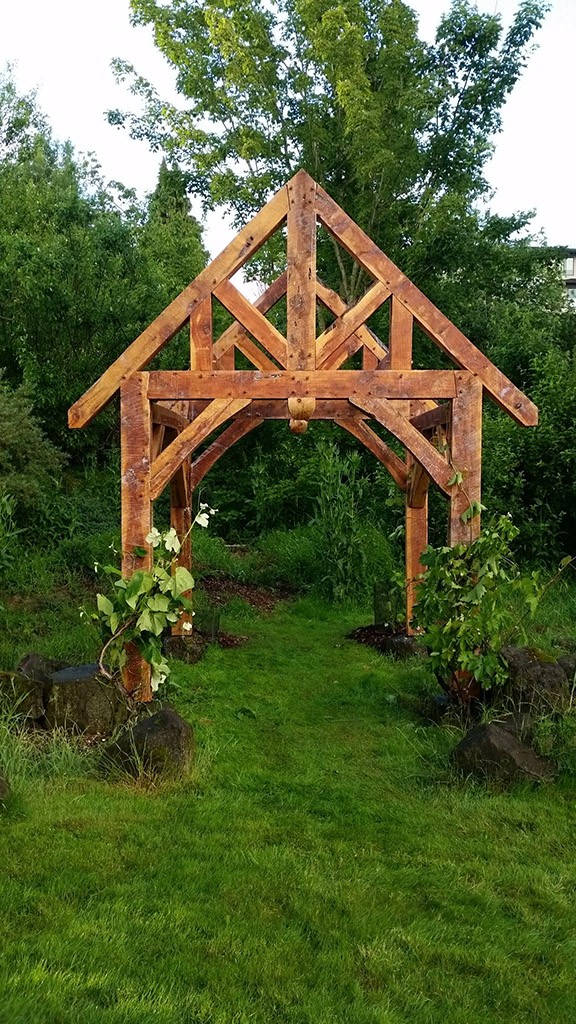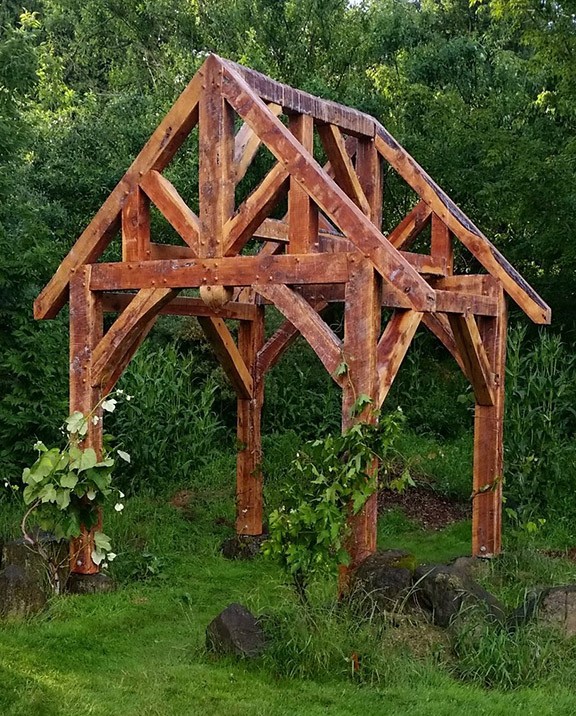 So the rest of my food forest received no care.  But my apples look great, I've got a decent amount of plums for the first time, pear trees are still small but doing well, I'll have a few hardy kiwi fruit for the first time (I've had difficulty keeping males alive). Loquat, strawberry guava, hazelnuts, chestnuts, walnuts, figs all looking really healthy (though the chipmunks, squirrels & jays already got all the hazelnuts).  I'm eating strawberries and mulberries every day, and my truck is back in the garage after 6 years :-).
In the next few weeks I will be harvesting plums, aronia, seaberries, teasel stems, and some apples and evergreen huckleberries.  Then come figs, grapes, cornelian cherries, and the rest of the apples.  I also got a scratter (fruit grinder) so I'm hoping for some ciders & juices.  I already have a press. If I have any time left I will finish the raised hugelkultur veggie bed (all the rocks in the photos above will be the border).  My dehydrator will be running nonstop until Thanksgiving.
Listing all that just now sounds overwhelming and it probably is.  I'm fine with giving away surplus, but I often don't have time to harvest everything.  But I don't mind leaving some for the birds etc.
August 18, 2020
1:49 pm

jafar
Forum Posts: 414
Member Since:
March 16, 2015

Offline
August 18, 2020
6:57 pm
davem
Forum Posts: 146
Member Since:
March 27, 2015

Offline
jafar said
That's very impressive Dave.  I think that will be standing for a long time.  
Thanks, I hope so! 
Juniper is supposedly very rot resistant but in working with it, it seems that just the core is rot resistant, the outer part not so much.  So I decided to melt wax onto all surfaces which should make it last forever (unless it catches fire :-)).  I've been doing that with the back and sides of my bat houses for many years.  It looks crummy at first but on really warm days the wax melts a bit and soaks further into the wood.  Eventually the wax turns the wood a darker color (which is partly why I like it for bat houses).
I have a different grape variety planted at the base of each post. After a couple of years the grapes will be like a roof in the summer.  One of them is already up to the top, 13' from the ground.  However I hate that variety so I'm going to try grafting a couple of other varieties onto that one.

Forum Timezone:
America/Los_Angeles
Most Users Ever Online: 232
Currently Online:
3 Guest(s)
Currently Browsing this Page:
1 Guest(s)
Top Posters:
DanielW: 408
Rooney: 364
Reinettes: 195
davem: 146
sweepbjames: 128
Larry_G: 95
jekahrs: 66
Dubyadee: 66
GH: 66
buzzoff: 57
Member Stats:
Guest Posters: 0
Members: 573
Moderators: 5
Admins: 1
Forum Stats:
Groups: 1
Forums: 4
Topics: 622
Posts: 4221
Newest Members:
sima22, Eric101, bbinko, Cleaningservice101, madhu@mbkhindi.org, Atalanta4apples, tanjaalger, nthurston, whenric, CarolinaSweet
Moderators: John S: 904, Marsha H: 2, Viron: 221, jafar: 414, portlandian: 1
Administrators: Idyllwild: 25