Topic RSS

Ugly graft context/contest/contenders
April 12, 2021
12:16 pm

sweepbjames
NE Portland, OR Cully Neighborhood
Forum Posts: 142
Member Since:
March 25, 2015

Offline
No outright/immediate prizes/awards, pending winners two or so years down the road. Political operatives needn't apply (already duly compensated)...

 Seriously though, joking aside......
These are pretty forgiving organic systems. I'm continually amazed.  
A few of my entries are a  three-way positioning rind graft of meakawa persimmon on d.lotus rootstock. Grafted June 16 2019. Grafted a couple other varieties on another couple of branch stubs (1 each, smaller diameter stubs) that didn't make it; figured not enough scions to create enough sap flow to keep the stub viable.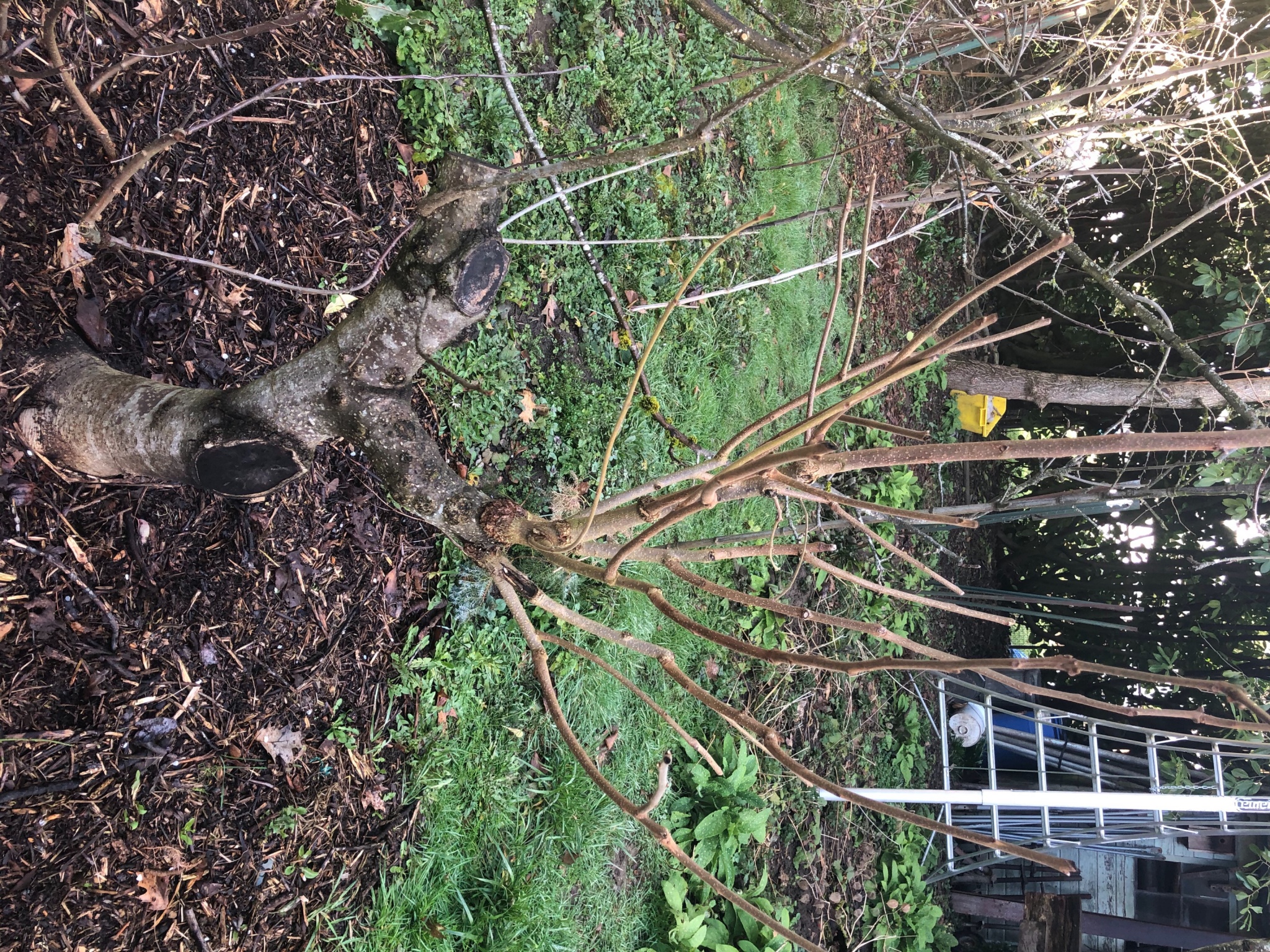 The other contender is a pear 5 kinds. 3 grafts were a kind of whip & tongue side graft because the root stem was substantially larger than the scion. The other 2 were near in size so more traditional w&t. Original graft 3/31/19.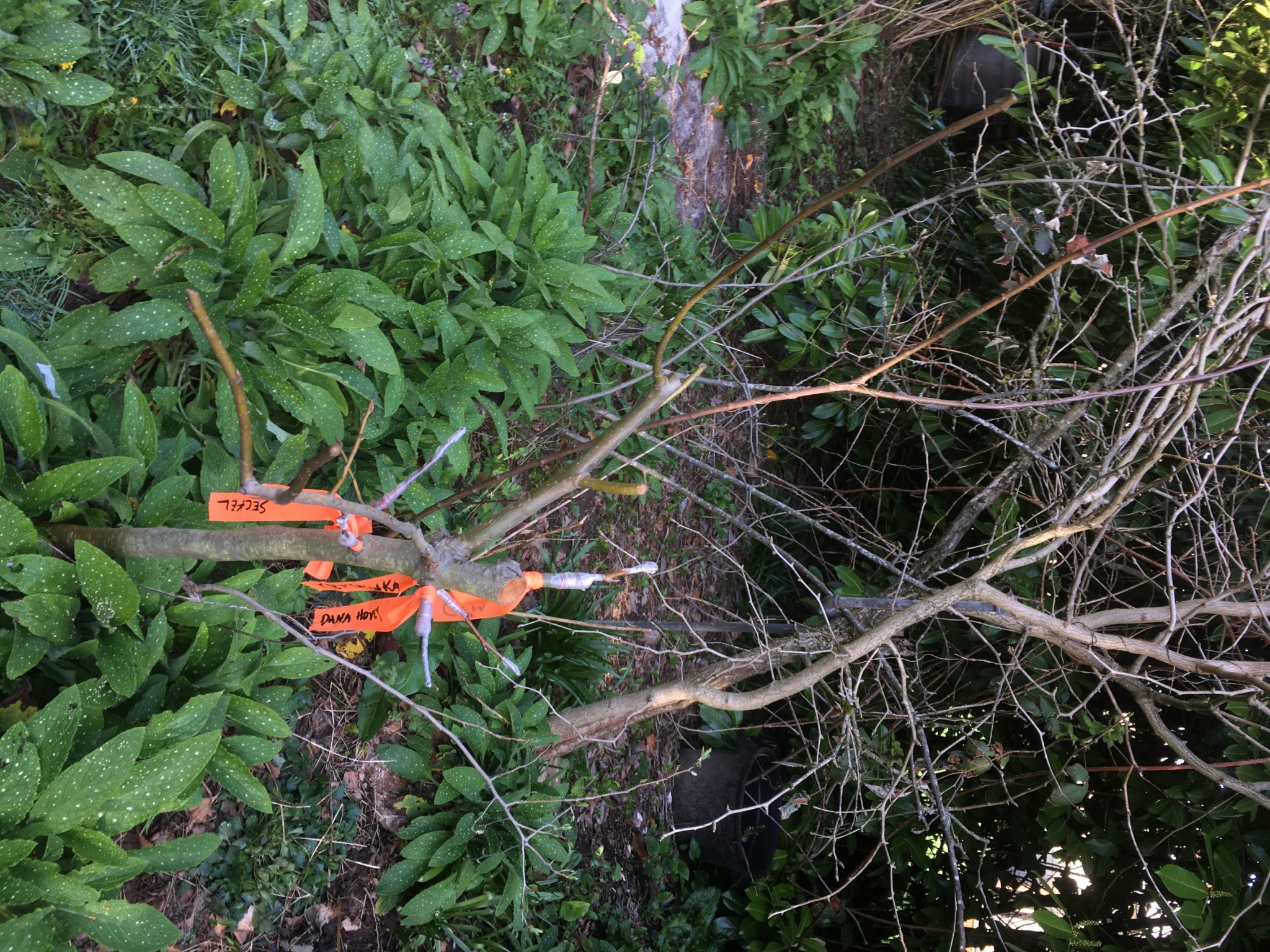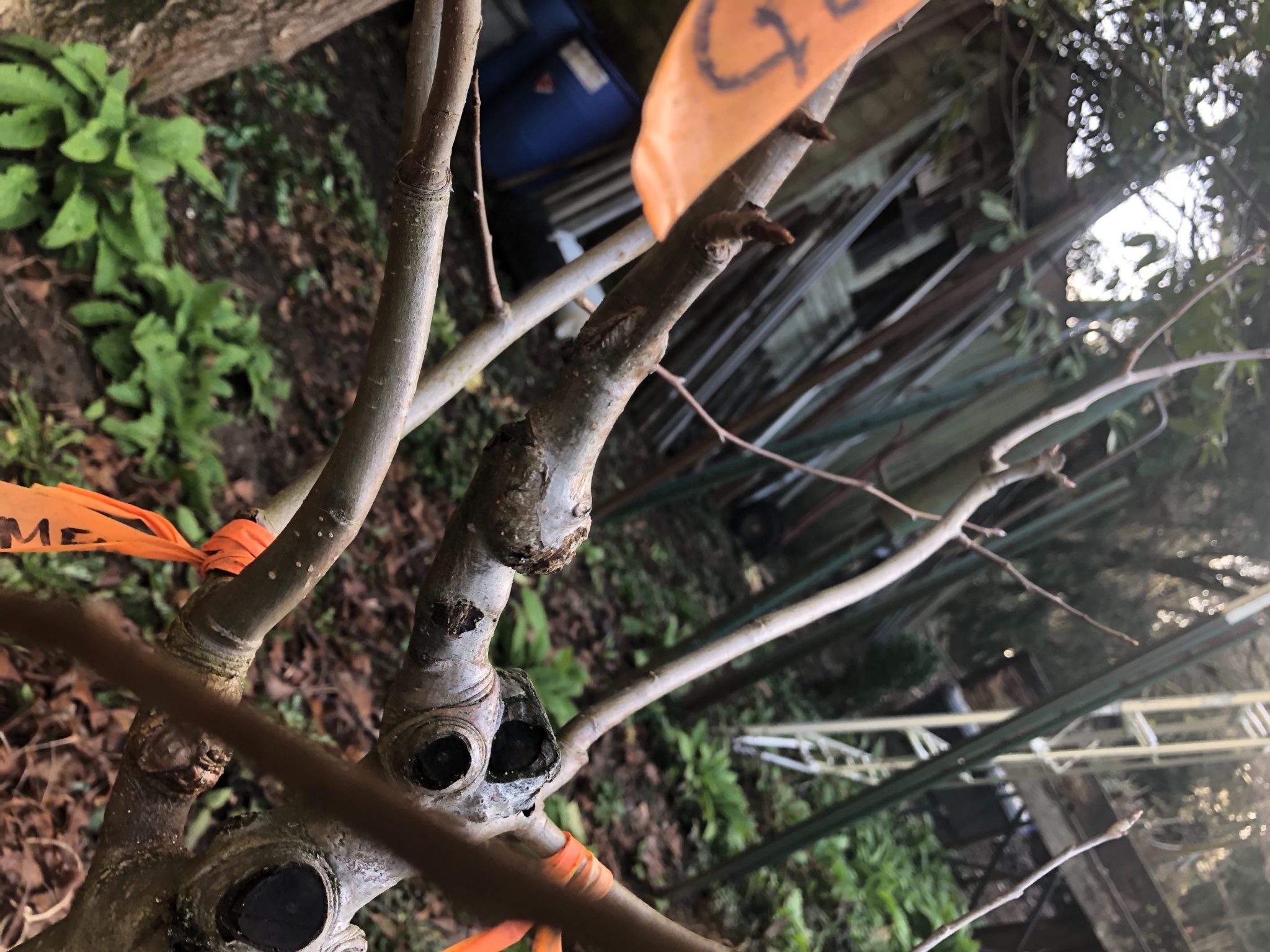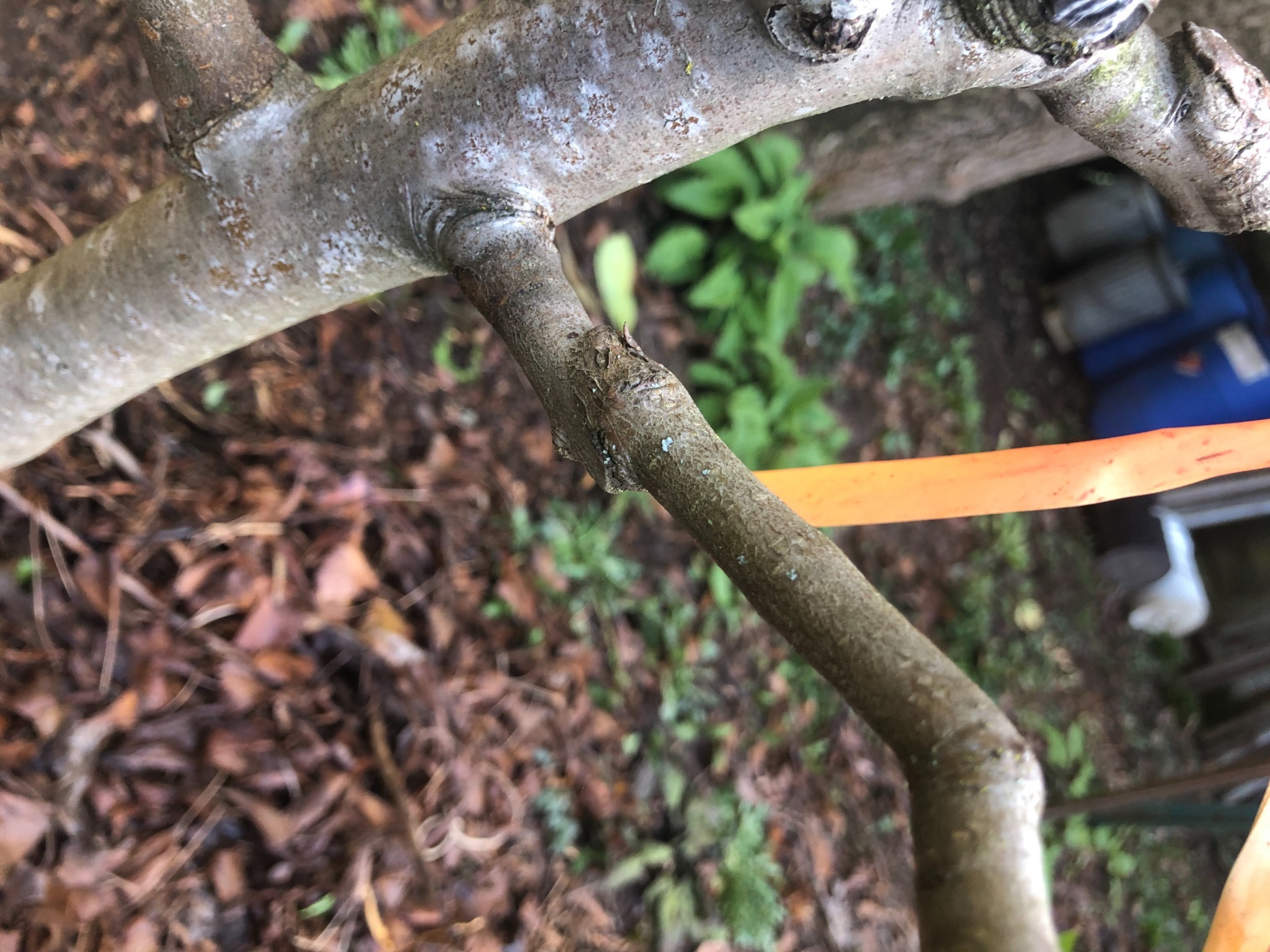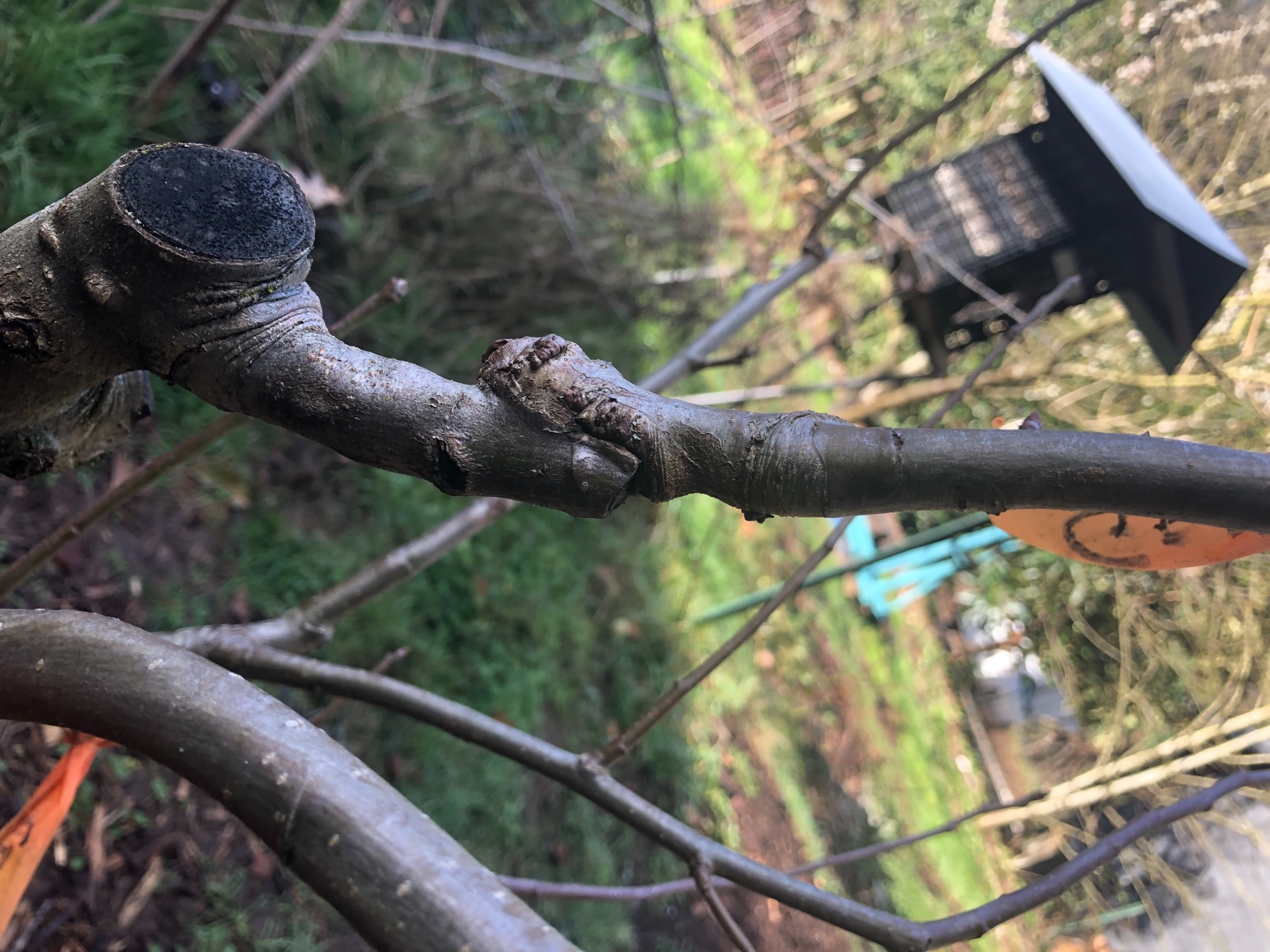 photos taken 3/6/21 excepting the first pear picture. 
I apologize, I don't know why or how the tablet I'm using flips the photos sideways or presents them in such a large form. 
April 12, 2021
5:37 pm

John S
Forum Posts: 972
Member Since:
March 16, 2015

Offline
April 12, 2021
6:25 pm

Reinettes
Lewis Co., WA
Forum Posts: 214
Member Since:
June 17, 2015

Offline
Ooooh, I could share some ugly grafts that were nevertheless amazingly successful,... if only I could figure out how to post digital photos to the HOS Forum.  I've tried!  God knows I've tried!

  I so desperately want to show some of my successful bad grafts in order to give new grafters some hope!
Reinettes.
[...As for the posting of photos, it now appears that some of our good Forum posters can't get a successfully loaded photograph to appear "upright".  Hello?  Someone?  Anyone?  ...Well, if all else fails, we'll just have to visit the Forum recumbently....  ...or is that decumbently?  I'm so confused.  English is a hard language to learn!]
April 12, 2021
8:10 pm

John S
Forum Posts: 972
Member Since:
March 16, 2015

Offline
April 12, 2021
11:39 pm

Rooney
Forum Posts: 423
Member Since:
March 25, 2015

Offline
John S said
It used to be incredibly hard to post pictures, because we had an amazingly lazy web person.  When we got a new one, it "magically" became much easier.  Upload attachements .

JohN S
PDX OR  
The real reason is that those beyond the administrator (aka wordpress) continue having to upkeep with new technology, which had nothing to do with lower level administration. 
site:easywpguide.com "improved support for large, high-resolution images uploaded"
Wordpress made that available no earlier than Dec-2019 about, as I remember the time the last admin moved on.
The other issue with side displayed images from mobile touch screen devices has to do with the gravity sensor of the device and not the site. There should be an option to turn off the gravity sensor.
April 15, 2021
12:14 pm

Reinettes
Lewis Co., WA
Forum Posts: 214
Member Since:
June 17, 2015

Offline
Rooney --  Thanks for the information.  Just a day or two ago my wife snapped a few pictures of a plant on our property that she wanted me to identify, but the photos kept flipping sideways.  I finally just told her to hold the phone steady in one position, I cocked my head sideways like a curious chicken, and was able to discern that it was a vigorous new shoot of Fireweed coming up from a rhizome.  Now if she can find the "gravity sensor" to deactivate it....  The phone was second-hand from her brother, but perhaps she's now a more advanced dinosaur than I am.  This dinosaur still finds a smartphone unnecessary, and a detriment to my mental peace and harmony.  I prefer to live in the real world, i.e., the natural world which humanity seeks to leave behind and in dismembered form.
John S. --  You say it's now "much easier" to upload attachments (photos).  Given my past few efforts which have come to naught, dare I try, try again?  Maybe?  Possibly?

I'll try to psych-up for it!  
Reinettes
April 15, 2021
9:20 pm

jafar
Forum Posts: 445
Member Since:
March 16, 2015

Offline
I've got some pear and shipova grafted to aronia that look pretty crazy.  The variety is 2-3 times the diameter of the rootstock.  I think Honeysweet, Ayers, Conference, and Taylor's Gold.  I'll have to doublecheck.  The masking tape label just fell off of the honeysweet after two years so I'd better give it a proper tag.
April 17, 2021
2:20 pm

Rooney
Forum Posts: 423
Member Since:
March 25, 2015

Offline
@Reinettes, if it makes it any easier tell one of your graduates if you have any when it's your birthday so they should get you a tablet (large screen, wifi etc) with the position sensor already set to bypass mode. I didn't say before but they have other camera settings where images can be set and saved with less resolution that might get as small as 600-700 pixels and it works to stay small by another switch to ensure it formats to jpeg automatically, each of which will lower the file size yet still fill up our view to maximum. 
Jafar: I know what you mean because I have seen John's idea of putting shipova on aronia. It looks like a liquid funnel but at least he says it does the job of nudging shipova into high fertility. 
I guess it was on another thread and recent comment of mine I made a mistake as I explained that adara plum on gisela-5 cherry root is smooth. So just in case the graft was hidden I wire brushed all the moss away and found the real graft and it does over grow. 
The left side gisela hosts the myrobalan plum (overgrowing). The right side from almost the same starting point hosts one of the cherry prunus kerrasis, otherwise known as bush cherry which is about 1/6th diameter of the plum. All over the place is still dominantly gisela. It all amounts to a huge improvement of fertility in all cases above grafts due to highly efficient nature of the patented gisela.
April 17, 2021
2:36 pm

Reinettes
Lewis Co., WA
Forum Posts: 214
Member Since:
June 17, 2015

Offline
jafar said
.... The variety is 2-3 times the diameter of the rootstock.  ....
Jafar,
Interesting to have you mention the discrepancy between rootstock and scion.  I remember (--probably some 25 years ago now--) driving with a botanist friend from southern California up to the Bay Area [Frisco] to attend a botanical symposium.  In the central valley, with all its monoculture orchards, I was amazed and amused to see hundreds of grafted walnuts in one area where the countless rows of uniform trees had rootstocks (the trunks) of approximately two-thirds the diameter of the scion (i.e., full-blown tree canopy)!  To my mind, it was just so abnormally anomalous that the upper trunk would be so much thicker than the basal trunk!
Like.  It blew my mind, dude!  Like, fer shur!  How can those walnut trees not snap in a heavy wind?  Or, for that matter, just fall over?
The resilience and adaptability of organisms never fails to amaze me.  Having been born a naturalist, the Natural World can never cease to amaze me.  Life is all too short to explore all the incredible wonders of the world around us.  We take what we can get, and have time for.
Reinettes.

Forum Timezone:
America/Los_Angeles
Most Users Ever Online: 232
Currently Online:
10 Guest(s)
Currently Browsing this Page:
1 Guest(s)
Top Posters:
DanielW: 442
Rooney: 423
Reinettes: 214
davem: 154
sweepbjames: 142
Larry_G: 95
jekahrs: 78
Dubyadee: 75
GH: 67
buzzoff: 57
Member Stats:
Guest Posters: 0
Members: 649
Moderators: 5
Admins: 1
Forum Stats:
Groups: 1
Forums: 4
Topics: 661
Posts: 4561
Newest Members:
candidanason924, robertpurvis, robert, emilybecker, colleenwinsor, vgviyscn7035, jordanharman0, ndicocco, riffrichards, hope
Moderators: John S: 972, Marsha H: 2, Viron: 225, jafar: 445, portlandian: 1
Administrators: Idyllwild: 26