Topic RSS

The right Apricot climate
July 13, 2019
11:51 am

Rooney
Forum Posts: 294
Member Since:
March 25, 2015

Offline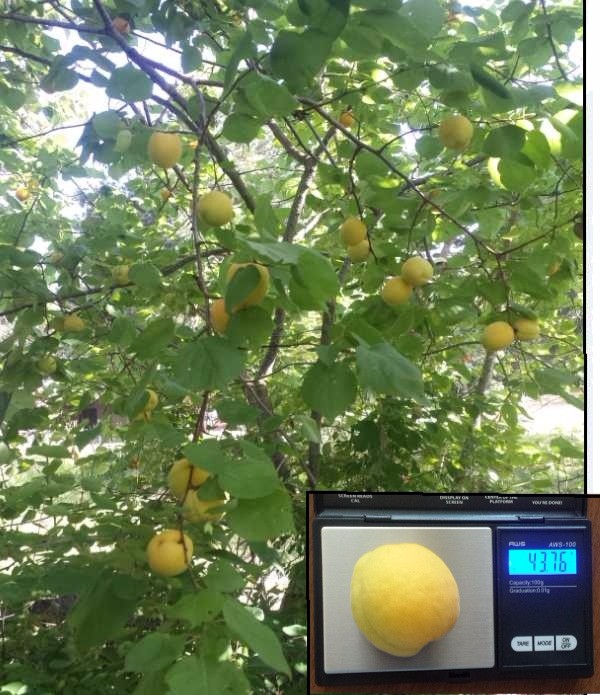 PNW, Columbia river, at a micro-climate
I know apricots are never advised for PNW conditions due to short lived trees and problems associated with poor flower health issues. However several days ago while exploring through the Washington side of the river, near PDX airport, I (by accident) found a healthy one loading up on fruit (picture shown). Now this is in all my many years living both here and Seattle -the first time I have ever seen such healthy apricots. I think the reasons are related to the proximity to overtowering brush and shelter all around and the underground spring waters that go beneath the ground spot and exit a short distance south into the Columbia river. In short: no wind exposure, cloudless night time temperature losses are recaptured by canopy, and the winter ground temperatures are above average. 
I have seen 2 out of these 3 conditions come together before on other kinds of fruit trees but not quite all three at the same time. Like for example sour cherry production in Canada and Alaska by the simple act of moving unproductive trees and trasplanting them closer to other trees (in other instances ground warming ideas) fruiting and an generally acceptable standard of health followed. 
A word of caution for those first time locals wishing apricots is to generally avoid them. see link
July 13, 2019
7:05 pm

Larry_G
Forum Posts: 86
Member Since:
August 3, 2015

Offline
You may want to revisit that tree next year.
On my inner-SE PDX block there was a fine old apricot tree (was very mature in 1990) and it fruited heavily (fallen fruit would require tiptoeing, no place to plant a whole shoe). It fruited twice in 25 years. The other 23 years zero fruit. The last heavy fruiting perhaps 5 years ago prompted the property owner to remove the tree. The stacked wood is still visible streetside, and it makes me  wince every time I drive by because that fruit was very tasty.
July 14, 2019
12:47 am

Rooney
Forum Posts: 294
Member Since:
March 25, 2015

Offline
Yes, thanks, it certainly makes sense to see what happens in 2020. If all the externals come together for this one we still have to know we are not in California.
Zaiger and Company produce a "black kat" from Cal that hit the shelves up here about a month ago. Maybe the pits on them could make a good apricot rootstock because the hybrid patent looks interesting. They are the big black plums (you have to look the true fine print name on the box) and they are solid firm for shipping but very delicious. Still prefer delicacies as such straight (softer) from the tree though.
July 14, 2019
10:03 am

ArmedAmish
Sherwood, OR
Forum Posts: 9
Member Since:
November 26, 2015

Offline

July 14, 2019
12:11 pm

Rooney
Forum Posts: 294
Member Since:
March 25, 2015

Offline
The last apricot in my yard I had died also. It was a late blooming species selection from a more northly source around China called Hunza apricots. It was even more prone to disease than regular apricots. I saved a small scion and had that grafted to a couple other plums successfully and I get my pollen from them every year. They live on because they are covered up during rainy season, and I do this religiously.
July 20, 2019
2:08 pm

John S
Forum Posts: 784
Member Since:
March 16, 2015

Offline
October 23, 2019
4:10 pm

buzzoff
Forum Posts: 32
Member Since:
November 17, 2018

Offline
November 3, 2019
12:36 pm

Rooney
Forum Posts: 294
Member Since:
March 25, 2015

Offline
@buzzoff, It's nice to see others join in to an already experienced team here!
Apricots: Going back not so long in time it had been suggested that PNW growing of apricots could benefit from later in the season flowers because of frost damaging to the early spring frosts. Then that idea had been expanded with more information to include a discovery that any flowers including later flowers were being robbed of iron particles by both good and bad bacterials that in turn, made the flowers suseptable to frost and freezing. 
I can configure the article in a sec, which is another scientific advancement as a result of fire blight sprays on the market at the time, and OSU (k johnson) with the ARS were involved with this.
November 3, 2019
1:22 pm

Rooney
Forum Posts: 294
Member Since:
March 25, 2015

Offline
**This is the research page; Iron chelate efficacy and freeze prevention idea
There will always be the hunt for better apricot  cultivars that make a difference if any can be found. I have also noted a few 'puget gold' mostly failing in the Seattle suburbs while living there before for a while. I think to get all you can from apricot in PNW other than the shelter idea from rain, is that you must find adequate summer soil moisture conditions, which PNW arid conditions add so much stress on the limited genetics apricots are adapted for.
One example is a (mostly failing) puget gold downhill from my heights location in Vancouver that is growing near the river upstream from the so far producing one in my opening topic. The upstream pugetgold is completely different soils consisting of rocky deposits from the historic george deposition of rocky deposits. Then nearer the PDX airport (downstream) the soils consist of differing texture.
**miner end note to the meaning in the referenced reading article "INA". INAs meaning is as it refers to "ice promoting proprties".
January 15, 2020
1:52 pm

sprout
Forum Posts: 3
Member Since:
January 15, 2020

Offline
January 15, 2020
7:43 pm

Rooney
Forum Posts: 294
Member Since:
March 25, 2015

Offline
Last Sunday while I was at the scion exchange in California Monteray Bay district I found from the locals that apricots are short lived trees there. When of bearing age they produce very well for several short years then start to decline and die. This is new news to me of apricots that they also bloom around Monteray bay in March, later than our.local valley conditions here. Which gave me a new opinion of maybe why apricots were crossed with plums for so many breeds of plum-cots, because plums can stand the mild California winters there and don't need the same dormancy requirements as apricots do here
On July 13th per my 1st post concerning a healthy local apricot tree. It had dawned on me this is the 'moorpark' seedling selection I had planted 15 years ago when the Columbia river trail was very new. I had just forgot this until a month ago. For years I had given up finding where I planted that, but she came back to me. The mother moorpark was at an old lady's home just before it also was temoved due to the conversion phase into a lawyers office. The lady proved to me it is true that some cultivars are more adapted locally than others.
January 16, 2020
2:20 pm

coolbrze
Forum Posts: 37
Member Since:
February 21, 2019

Offline
January 16, 2020
7:24 pm

GH
Battle Ground, WA
Forum Posts: 61
Member Since:
December 31, 2017

Offline
January 17, 2020
2:01 am

Rooney
Forum Posts: 294
Member Since:
March 25, 2015

Offline
coolbrze said
Where do Apricots grow best? What are the biggest hurdles they face (pests, disease, etc.)? Would they thrive in VA Zone 6b?  
They are long lived at states east of the Cascades such as Utah/Idaho, also interior WA, and maybe interior California too. The biggest hurdles are the early season flowers and early developing fruitlets being prone to late frost events. 
Your best bet for VA is to sync in with the institutions that have developed special selections that have been watched and bred in east coast conditions. To that note I had recently been in touch with an old friend from his past years in Alaska (@Purvis); whom because of his apricot expertise, in Idaho had been testing newer New Jersey program (@Rutgers) apricots.
Purvis did mention the N.J. program had used late blooming wild hunza species of apricot x regular apricot the way that I know Ledbetter (@2009) had done it in California before. What I don't know is if each program met any other challenges (other than frost issues), so maybe somebody else from your area will note here.
Apricots here in the PNW are not feesible at this time as none were ever developed that I know of in Britain or here for the local types bacterial gummosis, which is a pretty involved topic. ..Our best track record (as per above), one tree at a time.
GH said
Rooney, it must have been a happy moment...
Thankyou GH !
...and I did save an 18 inch top scion section to graft on my heights experimental apricot tree a couple weeks ago to further the cause.

Forum Timezone:
America/Los_Angeles
Most Users Ever Online: 232
Currently Online:
8 Guest(s)
Currently Browsing this Page:
1 Guest(s)
Top Posters:
DanielW: 381
Rooney: 294
Reinettes: 161
davem: 125
sweepbjames: 110
Larry_G: 86
GH: 61
Dubyadee: 59
caseroj: 53
Pugs: 40
Member Stats:
Guest Posters: 0
Members: 501
Moderators: 5
Admins: 1
Forum Stats:
Groups: 1
Forums: 4
Topics: 560
Posts: 3648
Newest Members:
nevastech, noel, CeeBee4, Z Sherwood, caelis, jjwillac, nleeevans, mrcmb99, 727sweett@gmail.com, arc827p
Moderators: John S: 784, Marsha H: 2, Viron: 205, jafar: 365, portlandian: 1
Administrators: Jesse: 48