Dubyadee
Puyallup, Washington, USA
232 Posts
1
August 11, 2022 - 5:08 pm
This time of year I have pollinators at my bee blocks looking for spaces. I drilled 1/8", 3/16", and 1/4" holes in some blocks of ash that a friend gave me. They seem to prefer the 3/16" but all three sizes are filling. I don't know what these are, bees or wasps?  Some of the capped holes have green tinge to them making me think they are leafcutter bees. Some of the caps have purple tinge, maybe from berry juice?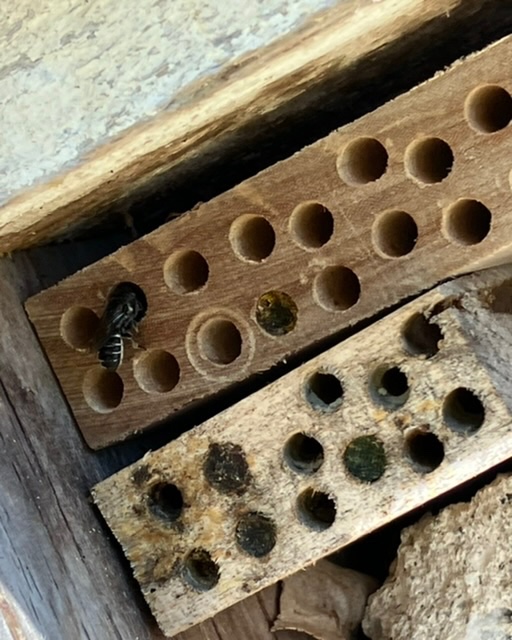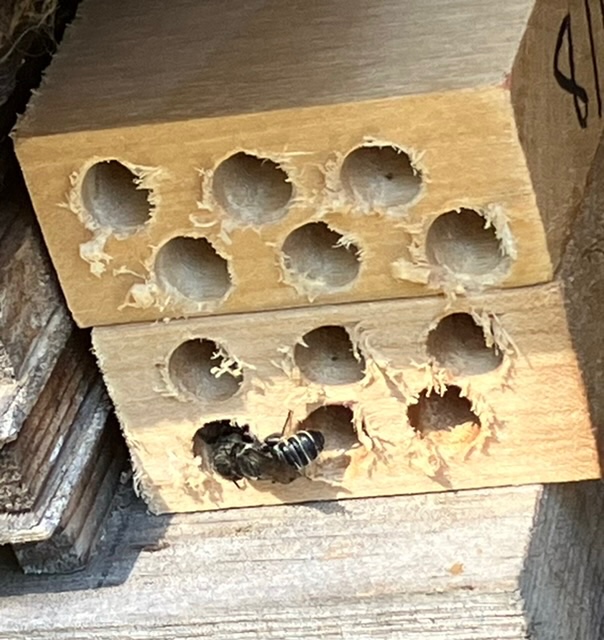 Larry_G
170 Posts
2
August 12, 2022 - 2:04 pm
Those are bees and not wasps. They do have the appearance of the leaf-cutting bees.
Leaf-cutting bee blocks are a thing. A web search may reveal a preferred hole size.
Perhaps the purplish cells are from purple foliage. Look around your property to see
if there are any leaves with missing arc-shaped pieces.

Dubyadee
Puyallup, Washington, USA
232 Posts
3
August 19, 2022 - 4:03 pm
After I posted the photos I discovered some spaces in my mason bee blocks were capped with leaves so I think the original photos were some sort of sweat bee and not leaf cutter bees. Today I found a yellow twig dogwood with lots of circles cut out.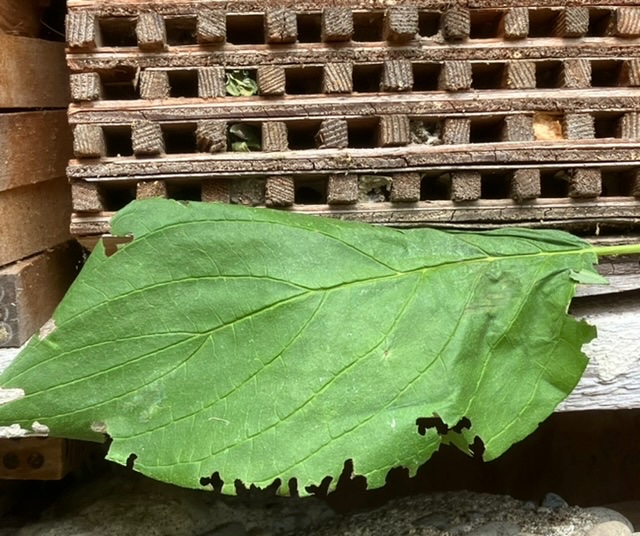 Forum Timezone:
America/Los_Angeles
All RSS
Show Stats
Administrators:
Idyllwild
Moderators:
John S
Marsha H
Viron
jafar
portlandian
Top Posters:
Rooney: 741
DanielW: 519
PlumFun: 495
Reinettes: 385
davem: 339
Dubyadee: 232
sweepbjames: 225
gkowen: 218
Larry_G: 170
quokka: 169
alicebobby
Norm
James C. Rocco
Jon M. Desmarais
btaha
Voltron
devinsta
yanerfade
swiftmess
anderopet
Forum Stats:
Groups: 1
Forums: 4
Topics: 2859
Posts: 16280
Member Stats:
Guest Posters: 0
Members: 7825
Moderators: 5
Admins: 1
Most Users Ever Online:
232
Currently Browsing this Page:
1
Guest(s)