Topic RSS

Seedling Peach Tree. First Peaches. Possibly Leaf Curl Resistant.
August 8, 2019
7:38 pm
DanielW
Clark County, WA
Forum Posts: 440
Member Since:
June 21, 2015

Offline

Four years ago I planted seeds from my "Oregon Curl Free" peach tree.  They are open pollinated but I also did some paintbrush pollen transfers from Salish Summer and Charlotte.  I suspect the seeds that I planted are just Curl Free, but I don't know that for sure.  The next season, that tree died of canker.
One seed grew.  I didn't have space in my regular garden, and planted in the chicken yard.  It's not ideal, because other nearby larger trees shade it.
This is my biggest peach tree now, over 12 feet tall and probably taller than that.  This year there was a trace of leaf curl on just a few leaves, maybe five, and they were not affected much.
This year there was fruit set.  After birds and June drop, there are about 20 peaches.  Today we tasted the first three peaches.
These peaches are a bit small.  Similar size to a Shiro plum.   I don't know why some are lumpy.  Most are not.  The flesh is yellow.  These are delicious peaches! 
For the sake of simplicity, I designated this "Cowlitz Peach".  As far as I could determine, there is no other peach with that name.
I suppose it's possible a tree needs to be in an area for a while for the load of disease to build up and affect that tree.  Even so, I feel very encouraged.  These are the best peaches I've eaten in quite a while. 
Peaches are said to come somewhat true from seeds.  I saved the first two seeds and plan to continue as they ripen.  I'm also thinking about ordering some peach rootstock and grafting some next year.
I wonder if they are better on their own roots?  This tree is growing fast.  Maybe the chickens are fertilizing it or maybe it's because it's on it's own roots.  This tree is healthier than the Charlotte and Salish Summer peach trees that are several years older.  The peaches are larger, earlier, and as many.  Salish didn't have any this year.
August 12, 2019
11:47 am

John S
Forum Posts: 966
Member Since:
March 16, 2015

Offline
August 12, 2019
8:53 pm

jafar
Forum Posts: 442
Member Since:
March 16, 2015

Offline
If it works out you get some healthy, fully-dormant scion wood this winter I'd be interested.
My mature Charlotte is a bust and I'm planning to graft it over to something in the spring.
Already turned my Indian Free into Early Laxton plum.  The only peaches I have left is one that was here when I got the place that made good peaches, but is succumbing to canker, and Frost, which has overall been the best combination of health and production - still has some issues.
August 22, 2019
10:33 am

John S
Forum Posts: 966
Member Since:
March 16, 2015

Offline
August 27, 2019
3:23 am

coolbrze
Forum Posts: 44
Member Since:
February 21, 2019

Offline
August 27, 2019
9:00 am
DanielW
Clark County, WA
Forum Posts: 440
Member Since:
June 21, 2015

Offline

Those peaches turned out delicious.  Yellow and freestone.  I saved a few seeds, stratifying in the fridge, which was how i started the original tree.  
Jafar, there will be lots of scions to share.
John, thanks for the idea.  I will try to root some cuttings.  For most cuttings, I usually have the best success using dormant wood, but I read that peaches are more difficult.  Also, I planted a Frost tree last year.  To be honest I have not taken good care of it but it has survived so far.  At the same time,I planted a Kreibich nectarine which does get significant leaf curl.
Of course, this tree might turn out different if grafted or as time passes.  I am very happy with it so far.
June 24, 2020
12:15 pm

Rooney
Forum Posts: 412
Member Since:
March 25, 2015

Offline
Over on your blogger update I noticed a name changer on the 'cowlitz' peach to 'sunny day' peach. That's great to have all these home selectives, congrats! 
I like your method of patch budding too. My big worry is having an open wound exposed for too long a time. There are always lists of things to worry about but at least when your picking live buds, slipping stock plants and keep washed with plenty of water then the only concern is how fast you can wrap it. Then the next obstacle is to force the new growth. 
I have spring budded wild and domestic trees for years like your doing but never patch grafted. What I think you get by patching is more pressure on the bud which is a good thing if your not tying down tightly from the outside. In my initial years of slip budding I would often get a partial take at the bottom of the bud slip only, which is due to the area being under natural tightness. The very bottom tip of the bud would become part of the new tree but with only a dead bud no growth. 🙁
Having had grafted a 2 gallon 'owen t' plum from green buds (almost same method) last year to krymsk-1, it had proven even possible to have flowers the next year.
(example: download owen t with nitrogen/epsom salts ...a December picture)
Your saving the seeds reminds me that I need to get back to WA soon to pick my PNW apricot progeny too. It's kind of a good feeling. But maybe this dry feel to PNW conditions is a short lasting thing. Look at the history of Shasta lake CA low water levels. The growing trend in California's future is a hundred year return to rain and normal period. Which I hope won't become true around Portland for us.
June 24, 2020
7:50 pm
DanielW
Clark County, WA
Forum Posts: 440
Member Since:
June 21, 2015

Offline

Rooney,
Thanks for your wisdom and experience.   Yes, I decided that I should use a different name.  It probably doesn't matter, unless other people grow this tree too.  So now I'm calling it "Sunny Day", which I did a search on and found nothing so I hope it isn't used for another peach variety.
It's interesting how something local grown by a backyard gardener can be useful.  A lot of the big name trees that come from nurseries are not necessarily adapted to a local area.  But if someone grows one in their back yard and it turns out good, then that has promise for other local growers.  Most of my other seedling trees have not resulted in fruits (mostly plums).
I know this peach will not be a giant California peach, but it has a good peachy flavor and is sweet, and this year, again, there wasn't a bit of leaf curl.  None at all this year, with no spray at all.  My Frost peach died, even though I sprayed with copper spray. My Charlotte and Salish Summer peaches have no peaches at all, and look near their end too.
One thought is does the rootstock have an effect on leaf curl resistance.  If that's the case, then growing this peach on Lovell might take away its immunity to Peach Leaf Curl.  I hope my bud grafts take and I can see what happens.
My buds were not exposed very long.  I had them in a glass of water while cutting the stem, and to make the cut match as close to perfect as my clumsy hands would permit, I sliced along the sides of the patch into the original stem, using a single edge razor blade.  It's a pretty snug fit, top bottom and sides.
One graft is at day 5 and the other at day .  So far the leaf remnant is still green and healthy looking.  I'm keeping them well watered and in the shade.  I don't know when the graft is supposed to be a definite take and can be unwrapped.  One web site I read said a few days, and another said a few weeks.  The skin (too thin to call bark) on the bud patch is green, and the skin on the stock is a brownish green.
I did this about 8 years ago with some cherries and an Asian plum.  They all took, but that was long enough ago I forget how it went.
For anyone reading here, here is the process I used.  I'm not claiming it's better than anything else, but in my hands it went smoothly.
Cutting and peeling back the area of the stock to accept the bud patch.
Cutting the bud patch, removing the central stem and spreading out the patch.
As I state above, when I fit the patch onto the stock, I trimmed with a single edge razor blade for a snug fit of the patch into the space on the stock, then wrapped snugly.
The wrap is a clear strip, cut from Zipper lock freezer bag, which is my normal graft wrapping.  Using that for apples this year, 15 of 15 took, and 4 of 4 chestnut grafts took.  But those are whip / tongue grafts and apples or chestnuts, while this is a bud graft of a peach.   When I looked at this one, there was an area where I cut off a branch that was in the way, that didn't seem to seal, so I overwrapped it  with a rubber band.  I did not use a rubber band for the other one.
It would be great if they take.  I'm not sure what to look for or when.  If I can see callous through the clear plastic, that might be a sign.
June 25, 2020
2:03 am

Rooney
Forum Posts: 412
Member Since:
March 25, 2015

Offline
It's not great to remove any wrap for 3 weeks. 3 weeks is about stage-1 for bud swell so no reason to remove. If you've left the leaf outside the wrap then the there might be enough room for the 4 week growth to push out from there. I usually have everything wrapped and so I always try and remember to poke a little hole where the bud is supposed to expand out. If you see callous then your rightly set about taking wrap off if you want. 
To make haste out of the project there are a couple pruning steps necessary. Around day 4-5 (post graft) starts with cutting back half the verticle wood above the bud and all tips of the stock. This keeps all other points of the tree from competing with the bud graft for the next 8 days and even though it looks like nothing is happening through your invisible wraps by then but possible callous tissue. After these 8 days remove every point above the graft and any side growth anywhere from the stock.
I mean if you've done budding before then budding a peach does not make any more risk for yourself than apple or pear buds done this way and time of year. Rates of takes can go down when having scions from small twiggy species with narrow buds, like for example the bush romance series cherries are difficult, and wild pin cherry too. After all my first green forcing bud graft was peach to my own seedling apricot. In my case the peach was less desirable than yours being a miniature peach but not so near the problem at hand as these bush cherry types. 
This is what makes this place so invaluable is the spread of knowledge. Peaches and apricots are easier to bud and force than options for dormant grafting do. However a local grown peach rootstock must be sheltered prior to a graft. Cherry is usually easy either method if you treat your cherry wood close to 32F and use sheltered rootstocks (in the cherry group). Apple and pear go easy budding or typical dormant grafting.
Your concern over rootstocks producing leaf curl is a valid one when grafting Frost peach onto St. Julien-A. It comes from reading advice of others such as Raintree old catalogs when Frost was first discovered. Frost can die on St, Julien in the first several years, then of course showing leaf curl results. If by happen chance any Frost on St Julien is healthy past 3-4 years then it's clear sailing there-after for another half dozen years. 
Peach has always been the best under peach and longer lived. Apricot roots for peach can be a gamble. I have heard good stories using very young seedlings of apricot under peach but I would advise against grafting peach on older apricots, especially in our region.
June 25, 2020
9:12 am

jafar
Forum Posts: 442
Member Since:
March 16, 2015

Offline
I'm curious about peach on St. Julien grafting.  I have lots of St. Julien root suckers.  On a whim, I experimented cleft grafting green Beauty plum cuttings onto a couple of the root suckers - still attached to original root system.
I left several buds on each.  Three weeks on the buds still look okay and the scions aren't shriveled.
Was hoping I could do some sort of budding or green grafting with this new variety.  
June 25, 2020
1:58 pm

Rooney
Forum Posts: 412
Member Since:
March 25, 2015

Offline
The only issue budding on new shoots of any existing plum root system are flooding of the bud due to excess pressure of sap and learned that one the hard way. Mine were several 'black splendor' and 'owen t' plum buds, all of which drowned. That was over 12 years ago when I took the problem up on the old Nafex list of members. J Lehman responded that plum buds do indeed drown but I can't discern if the issue with plums is due to the bud intolerance or plums exerting more root pressure than most other fruits do. All I know is the weather was very wet and my rootstocks were St Julien young shoots from a large network from underground. My only 'owent t' buds that didn't die were some that I grafted very high up and above the roofline upon another exsiting plum. 
So some patience waiting for rainy weather to end is what will work best. Or the start of summer like now. Others may have info regarding peach long term compatibility on St Julien. You can also investigate the third page of tests done with peach and plum buds in California on prunus insititia which do belong to the same group as St Julien. 
July 19, 2020
4:07 pm

Rooney
Forum Posts: 412
Member Since:
March 25, 2015

Offline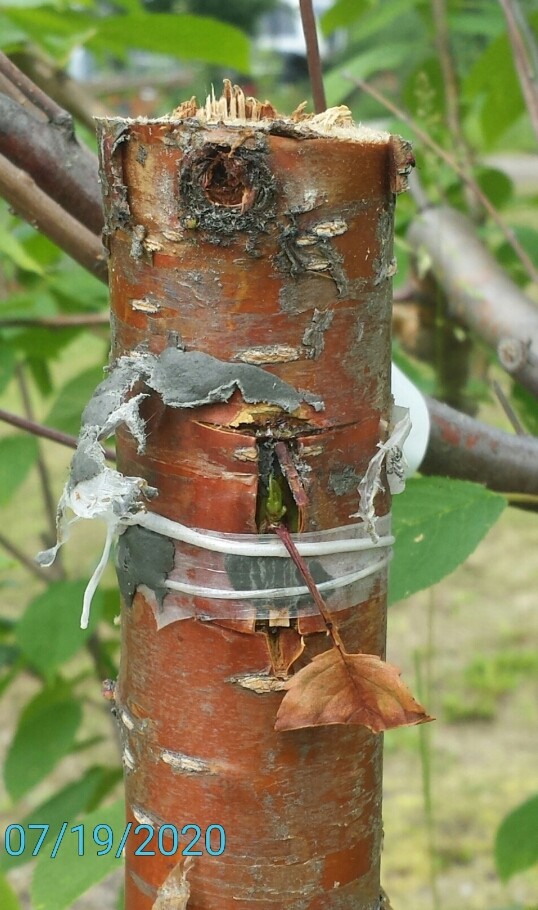 prunus pennsylvanica bud on chokecherry prunus mackii
 Daniel:
I don't really have much to say on peaches since I have none, but I hope yours are going along. How's yours?
Per the above today's dated picture are my results. Elsewhere earlier it had been talked about seeing callous tissue through your clear wrap strips which I have no idea is possible without disecting some of the wrap. Callous is seen and a browned leaf is not any indication of failure here as the bud (post June-25th) is swelling up and at the same rate as many other competing buds I must take down. What is not so readily seen is the moisture accumulation at the top callous. This due to such a large and existing root system in the ground and too much moisture, which makes it sometimes advisable to at least partial removing of wraps. 
I have done several patches as such on 6-25. My next goal for next year is to see if the small narrow budding wood works better this way on the bushy mongolian cherry types. It is more fun putting the little extra time into such a method when the outcomes have a better chance of surviving, so Thanks!! ;
..really pleased with it all.
July 21, 2020
9:57 am
DanielW
Clark County, WA
Forum Posts: 440
Member Since:
June 21, 2015

Offline

Here are the patch buds from "Sunny Day" peach bud patch graft after a bit over 4 weeks.  I lost track because of a recent hospitalization.  I was thinking I can still cut off the top.  Even if new growth isn't fully hardened off by winter, I can store these containerized tree out of the coldest weather during the winter.
This is the first time I ever got peach graft to take.  Plus, the peach seeds that I harvested last year didn't amount to anything, so this is all i have for growing more of these.  So far, so good.
July 22, 2020
11:11 am

Rooney
Forum Posts: 412
Member Since:
March 25, 2015

Offline
I commend you on your idea of still pushing the bud. Many my bad experiences with mostly cherry failing while leaving the buds dormant all winter but never the other way around. I may have made it possible to work while dormant had I exposed my dormant bud towards winter daylight and kept dry. As we do have all those long above freezing periods after senescence that those new buds are still being active during all daylight periods. 
It comes from part of an article I have stored away from an Alaskan fellow quoting Kotovich's research in Russia, in part regarding winter survival chances of dormant wood in Russia and the changes light causes upon young wood. It provided enough itemized proof to me in the way of pictures to warrant saying that young wood is indeed translucent and saying so here (ie. ploem/cambium color changes during the progress in winter's months like a suntan). He interpreted the study into english with pictures but from those pictures to here I'm not sure is worth the risk of taking, and there is no link in english towards the work of Kotovich.

Forum Timezone:
America/Los_Angeles
Most Users Ever Online: 232
Currently Online:
9 Guest(s)
Currently Browsing this Page:
1 Guest(s)
Top Posters:
DanielW: 440
Rooney: 412
Reinettes: 214
davem: 151
sweepbjames: 140
Larry_G: 95
jekahrs: 78
Dubyadee: 75
GH: 67
buzzoff: 57
Member Stats:
Guest Posters: 0
Members: 637
Moderators: 5
Admins: 1
Forum Stats:
Groups: 1
Forums: 4
Topics: 656
Posts: 4520
Newest Members:
leliacooney29, BrandyAndy, margartchambless, james67, eltonhutchins09, LMcGarry, hessetta, Tracker, PalouseCider, ebruckner
Moderators: John S: 966, Marsha H: 2, Viron: 225, jafar: 442, portlandian: 1
Administrators: Idyllwild: 26