Topic RSS
Related Topics

Pawpaw pollination time
May 4, 2019
9:52 am
DanielW
Clark County, WA
Forum Posts: 440
Member Since:
June 21, 2015

Offline

This might be almost late, especially for folks in Portland.  My Battleground pawpaws are blooming.  That means it's pollination time.
Some observations, this year.  The flowers on Sunflower barely open, so by the time they open they are already shedding pollen.  From what I have read, that means they are no longer receptive to pollination.  The flowers on NC-1 seem to open a little wider before the anthers mature.
I had to use a fine watercolor painters paint brush to access the insides of the flowers.   First I go to one tree, use a white cup to brush anthers and pollen from mature flowers into the cup.  Then go to the other tree, use the brush to pollinate the flowers that appear receptive.  Then, repeat in reverse, pollinating the flowers from the first tree with pollen from the second tree.
Since they bloom over a week or two, that gives me a chance to pollinate a lot of flowers.
Last year, I must have pollinated a hundred flowers.  On one tree, NC1, that resulted in one fruit.  On the other, Sunflower, there were a couple dozen. 
I also noted this year there were stink bugs in the flowers.  They claim the flowers have a stinky smell, but I can't detect it.  Maybe the stink bugs do, and are potential pollinizers?  I don't don't knowl
My trees are not large, about 8 to 10 feet tall.  I also have a Mango pawpaw that is 6 years old and only about 3 feet tall, and Allegheny that is 5 years old and about 5 feet tall.  Both had flower buds but all fell off from Allegheney.  I noted that Sunflower and NC1 both bloomed for about three years before I got any fruits. 
The flowers are a challenge to pollinate.  The face downward, like bells.  It's hard to see inside, and the branches are low.  I kneel to pollinate the lower branches.  I wonder what the neighbors think, that weird guy out there kneeling under his trees and looking up into the branches?  Praying for pawpaws?  🙂
May 5, 2019
8:12 am

John S
Forum Posts: 966
Member Since:
March 16, 2015

Offline
Great post and reminder Daniel.  I finally found one of the packets of my tiny elementary school paint brushes that I have bought maybe 10 times for $1 over the last 15 years.  Fortunately, great skill in painting is not required.  I agree the little brushes are better, because the opening on the flower is sometimes barely big enough for a carrion fly to enter.  Some of the flowers do smell bad, and some I can't detect.  Old people gradually lose their sense of smell.  I do find it fascinating that they are meat colored, for more attraction of the carrion fly.  Mine do get pollinated, especially Sunflower, without my help, but I would rather have 15 fruit than 5.
John S
PDX OR
June 21, 2020
3:11 am

sweepbjames
NE Portland, OR Cully Neighborhood
Forum Posts: 140
Member Since:
March 25, 2015

Offline
June 21, 2020
3:25 am

sweepbjames
NE Portland, OR Cully Neighborhood
Forum Posts: 140
Member Since:
March 25, 2015

Offline
I think these little gnat like critters are doing the majority of pollination on my Pawpaws. Photos taken April 21.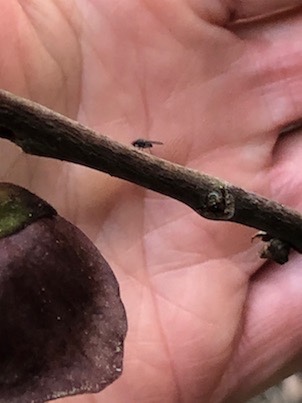 This guy a little late to the party but worth a photo, taken May 15. Not many female flowers left at this point as I recall.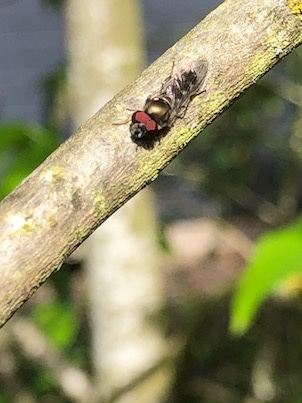 Maybe about 6X the size of the gnats. Maybe 25% of a mason bee

Forum Timezone:
America/Los_Angeles
Most Users Ever Online: 232
Currently Online:
10 Guest(s)
Currently Browsing this Page:
1 Guest(s)
Top Posters:
DanielW: 440
Rooney: 412
Reinettes: 214
davem: 151
sweepbjames: 140
Larry_G: 95
jekahrs: 78
Dubyadee: 75
GH: 67
buzzoff: 57
Member Stats:
Guest Posters: 0
Members: 637
Moderators: 5
Admins: 1
Forum Stats:
Groups: 1
Forums: 4
Topics: 656
Posts: 4520
Newest Members:
leliacooney29, BrandyAndy, margartchambless, james67, eltonhutchins09, LMcGarry, hessetta, Tracker, PalouseCider, ebruckner
Moderators: John S: 966, Marsha H: 2, Viron: 225, jafar: 442, portlandian: 1
Administrators: Idyllwild: 26