Topic RSS

My Lone Peach Tree
January 13, 2021
7:39 am

Eric101
Virginia - Zone 7a
Forum Posts: 1
Member Since:
January 13, 2021

Offline
Inspired to save my lone peach, I ordered scion wood and am going to top work the tree. I am committed to doing a cover spray regime of Captan for brown rot and got to reading about plum curculio. It seems that to control this pest, I need to include a malathion spray into my regime. This got me thinking about my dogs who often eat the fallen peach fruit. Would such a regime endanger them? Is it such a threat that I should abandon my efforts and just enjoy my peach tree as an ornamental? Can I just treat with the fungicide and accept a portion of my fruit will be ruined by plum curculio? Any advice would be helpful.
Eric - Hamilton, VA Zone 7a
January 14, 2021
7:30 pm

John S
Forum Posts: 972
Member Since:
March 16, 2015

Offline
Peach trees are disease magnets, unless you live in a dry place like Eastern OR or WA, Idaho, Utah or most of Cal. I don't like to spray all of those toxins because I don't want to poison my dog, my kids, my wife, or myself.  One thing I'm thinking about doing is creating a plexiglass roof to keep the rain off. Then I would prune and spray compost tea, which I have done before successfully.  I have heard of people doing the plexiglass roof successfully as well.
John S
PDX OR
January 16, 2021
7:36 pm

Viron
Forum Posts: 225
Member Since:
March 16, 2015

Offline
After pondering your dilemma, it struck me: I'd never recommend anyone in the PNW grow a peach tree.  How's that for nearly forty years experience

Regarding top-working, I've grafted, too.  Peach trees are not easy, they're generally budded (as are most fruit trees).  If you're counting on placing a successful scion graft at the end of each limb, I'd hate to see you further discouraged…
John's advice is sound, and he's experienced.  Though, I envision his Plexiglas airborne with the East Wind
Here's what I just recommended regarding Peach Trees: My advice to others became, if you want something different, try an Asian plum.  If you need something more exotic, try an Asian Persimmon.  If still in need, either a Desert King or Brown Turkey Fig..  
One of the best aspects of having been a longtime member of the Home Orchard Society was my introduction to fruit (such as listed above) that I was unaware of..  Like ...Asian Persimmons, with their magnificent foliage, insect & disease resistance, no need for pollination, large, seedless, consistent fruit on compact easy-care trees..  They replaced several of my former peach trees, and I'd bet your dogs would love them ~
January 16, 2021
9:39 pm

jafar
Forum Posts: 445
Member Since:
March 16, 2015

Offline
Eric, Welcome to the forum.  Glad to see we're still adding folks even though the Home Orchard Society proper has come to an end.
John and Viron, it looks like Eric is in Virginia, not the PNW.  
A quick Google search found this website with link to PDF document with a bunch of information on growing peaches in Virginia, including variety suggestions:
January 17, 2021
10:14 am

Viron
Forum Posts: 225
Member Since:
March 16, 2015

Offline
..In the Piedmont, or the Coastal Plain?  Either way, that's different.  I'm a couple thousand feet above (Blue Ridge, 6b), with some productive, though neglected peach trees just down the road…  I like neglect, thus all of my former peach trees in the PNW were replaced with the trouble-free alternatives mentioned above.  If it 'needs spray' - 'no way' ..became my pledge.  
I don't know that many, if any on this forum can advise you on sprays or pests 'over East.' [perhaps part of the reason for our recent demise; we're too regional
]  After 5 solid years here, I can't.  Honestly, with the Summer Humidity over here ..I don't know how they survive at all
  Though, I'm not past 'spraying' in order to save my grapes, apples, pears or Asian plums.  So far, no need..  
Here's a found 'suggestion' on Plum Curculio Control: "Plum curculio control begins in the spring when overwintering adults emerge. Insecticide for plum curculio should be sprayed at petal fall and first cover stage for hard fleshed fruits. Two additional applications at seven to 10 day intervals are best. Spray for plum curculio in soft fleshed fruits, like peaches and cherries, at the shuck split and first-cover stages. If the flowering season is cool and dry, additional applications may be necessary. The adults may delay emerging until the weather is warm and wet. The best spray for plum curculio is phosmet or carbaryl. Always check the label and follow the instructions."
So, 'Carbaryl' - "Carbaryl (Sevin) is not highly toxic to humans and quite effective against many insects. It is more toxic than either malathion or diazinon to bees and beneficial insects, so its use should be avoided whenever possible. ... Carbaryl remains on plant surfaces much longer than most other insecticides available to homeowners."
I'm of the 'Sevin & Malathion' era ...(don't know if you're near Midlothian VA, but I cracked up a produce guy there calling it Malathion

) ..and no cancer yet..  Sounds like infiltrated fruit drops long after the first application/s.  
My 'advice' regarding scion grafting peaches stands, for me at least.  Their ..piffy wood and susceptibility to moisture transmitted disease seemed the reason for failure back in the PNW..  I'd expect to end up with a mutilated tree, with, at best, a branch or two of 'the new variety.'  And, that variety would be as susceptible to those boring pests as the original..
January 17, 2021
6:07 pm

John S
Forum Posts: 972
Member Since:
March 16, 2015

Offline
I have talked to several people who have successfully used plexiglass or glass rooves for their peaches.  Obviously, you have to build for your conditions.  If you live in the Columbia Gorge, then Viron's advice is straight on.  You may be creating an aircraft.  I live on the less-windy west side, and I built them so as to not fly away.  I have wood borders for them, partially to add weight, but more so I can easily construct and dismantle them per the season.  Glass is heavier, but as such, you have to build them with more sturdy construction.
For me, part of the beauty of a forum like this is listening to other people's solutions and trying to adapt them to my situation.
John S
PDX OR
January 18, 2021
5:01 pm

Rooney
Forum Posts: 423
Member Since:
March 25, 2015

Offline
Sometimes I erect scaffolds as can be seen in the backdrop of this from my yard which supports my old patio glass. In which case I am protecting a valuable sour cherry project that I am in a need to have really great fertility for some hybrid crosses.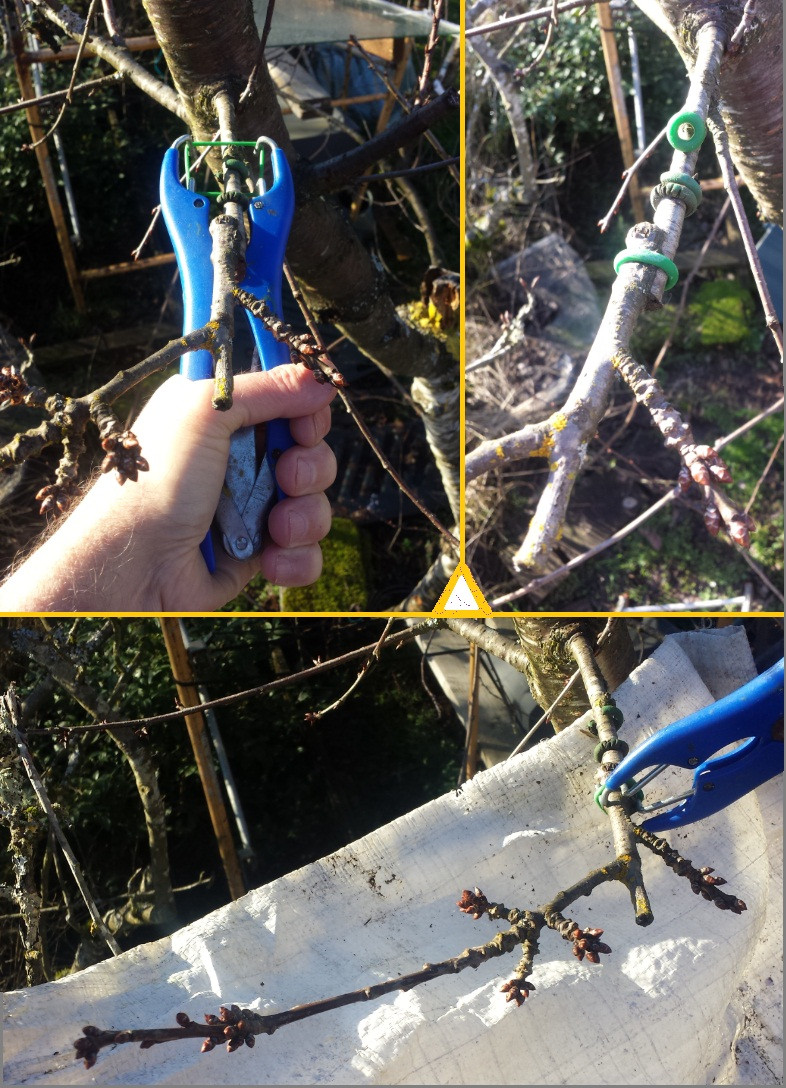 I have heard horror stories of grafting peaches that mostly concern first and at best a successful graft then later to be broken due to a physical accident of some sort moving potted peaches. My own idea to improve the odds of weak wood when topworking is using this foreground example of slightly scraping past the cambium on both scion and the branch your topworking to. In my case it's not peach but it's the method of grafting with a special easy to get tool from farm stores. Mine shows the original 4 year old green bands (2) still hanging on but already old and about to fall off. The fresh green bands shown for demonstration purposes are high strength and it's never necessary to ever remove.
It's something a crow can perch on and has lasted this many years. It's a 'shirofugen' flowering cherry on a hybrid x-pugetensis as the topworked. All upon a purchased 'blackgold' sweet cherry on gisela-5 rootstock.  So when the blackgold was dying I inserted the hypersensitive flowering cherry scion to see if it could verify it's virus status.

Forum Timezone:
America/Los_Angeles
Most Users Ever Online: 232
Currently Online:
4 Guest(s)
Currently Browsing this Page:
1 Guest(s)
Top Posters:
DanielW: 442
Rooney: 423
Reinettes: 214
davem: 154
sweepbjames: 142
Larry_G: 95
jekahrs: 78
Dubyadee: 75
GH: 67
buzzoff: 57
Member Stats:
Guest Posters: 0
Members: 649
Moderators: 5
Admins: 1
Forum Stats:
Groups: 1
Forums: 4
Topics: 661
Posts: 4561
Newest Members:
candidanason924, robertpurvis, robert, emilybecker, colleenwinsor, vgviyscn7035, jordanharman0, ndicocco, riffrichards, hope
Moderators: John S: 972, Marsha H: 2, Viron: 225, jafar: 445, portlandian: 1
Administrators: Idyllwild: 26