Microsurgery grafting with parafilm

John S
PDX OR
2593 Posts
1
July 18, 2019 - 11:22 am
Microsurgery Grafting Techniques
By John S PDX OR
Many times in the last few decades I've been trying to graft a particular variety of fruit that I am very excited about. I am talking today about whip and tongue grafting, the kind normally done in the spring. The problem is that the only scion I could get was a very, very small one. As most of you know, most grafters prefer a scion that is about the diameter of a pencil. Somewhat less is fine, and somewhat larger is also fine. Much larger or smaller creates problems.
However, sometimes the only scion you can find is tiny. Maybe it was the last one in the container at the Fruit Propagation Fair. Maybe it was the only one your friend could spare from his or her young tree. I have grafted many small scions. At first, I broke a high percentage of them. When you use the same rubber band around it as you would use on a regular scion, there are problems. First of all, you have a lot of extra rubber band, because it's so small. In addition, many of them break, because they can't withstand the same force of wrapping them tightly together. Finally, the cut has to be more precise, because any errant cut can destroy the scion and eliminate the possibility of cambium connecting.
As I thought of these problems, I wondered what I could do to make the situation better. I asked some friends at HOS and they suggested I try bark grafting, as that type of grafting works well with small scions. The problem for me with bark grafting is that only rarely can I store scions for that extra length of time. We cook and eat dinner together as a family and I can't use up refrigerator space like that. It's a great idea for those who do have the refrigerator space, though.
I thought of a gentler way to wrap the scions together so that the force wouldn't break the scion. Normally, I can't wrap them with as much force as I can a larger scion, because they would break. As a result, they aren't held together as well, and more air can enter between the two pieces of wood. This dries out and kills the graft. This is especially
true because my cuts are often less precise on such tiny wood.
For summer bud grafting, I usually use parafilm to hold the bud in. I had never heard of anyone using it for spring whip and tongue grafting, but why not try? When I did, I noticed that I needed less force to use the parafilm than to use a rubber band, which was nice. As a result, I broke no scions. I try to stretch the parafilm around either the buds or scions on each turn, as I notice that it holds a tighter wrap around them and presumably lets less air in. It also binds the two pieces of wood together better, ensuring a better bond for the graft. Because I wasn't using any grafting compound, I made a few extra wraps around the scion, to prevent the entrance of air more completely.
2
July 26, 2019 - 10:30 am
I don't know what you did to get all the icons hosted on that list into here but I do know that you can't edit them out now that I (as a 2nd reply) posted this. 
I would add here or anyplace that rubber bands have never had or needed a habit of being installed to exclude the drying effects from the outside and thus are never covered up completely. The bud itself on a properly held in bud and watered host is allowed that much loss. So I would add that more than one parafilm layer is not necessary. I also talked and got the opinion of a worker of budding grapes with this same tape brand. According to him the buds have trouble breaking through this brand, maybe this includes the others as well (?). It certainly includes rubber.
The idea of my picture off the other thread over a month ago (shown) is to stretch as much as you can, as in this case on a single final wrap.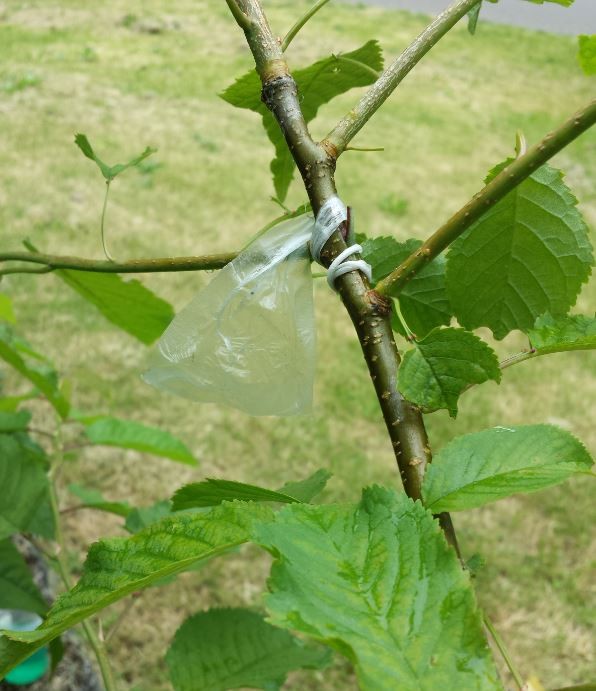 3
July 26, 2019 - 10:41 am
I see now that yours are not bud grafts! My eyes get tired of dirty cellphone screens, sorry (
embarassed). But still glad (

) that I had to cover one potential tying problem when using the same.
Forum Timezone:
America/Los_Angeles
All RSS
Show Stats
Administrators:
Idyllwild
Moderators:
John S
Marsha H
Viron
jafar
portlandian
Top Posters:
Rooney: 684
DanielW: 519
PlumFun: 495
Reinettes: 375
davem: 312
Dubyadee: 222
gkowen: 218
sweepbjames: 212
Larry_G: 151
quokka: 148
lelandzeller37
jaredgooseberry
kelleelamond96
ermabarrenger0
eloise3572
odettecardin147
jedodowd18
woodrowkleiman
terriheathershaw
allenmartens8
Forum Stats:
Groups: 1
Forums: 4
Topics: 2811
Posts: 15714
Member Stats:
Guest Posters: 0
Members: 7099
Moderators: 5
Admins: 1
Most Users Ever Online:
232
Currently Browsing this Page:
1
Guest(s)