Topic RSS
Related Topics

Cross-Species Pear Grafts.
September 30, 2020
4:23 pm
DanielW
Clark County, WA
Forum Posts: 440
Member Since:
June 21, 2015

Offline

This year I decided to do some cross-species pear grafts that I have read about.  The reason was to make miniature or highly dwarfed pear trees.   I have seen posts on various websites regarding compatibility, but it's hard to find much data.   Especially, I could not find cultivars that are named, as compatible with pear.
I used whip-and-tongue for each of my grafts.  If they took, I didn't need multiples, so I did a couple with a no-name Asian pear from my yard, and an Orca European pear from my yard.  I know that no-name aspect doesn't help a lot, but it is what I have available.
I bought the rootstock plants based on nursery descriptions of the plant size and what was available, and cost.  Those included
For Serviceberry, I bought the variety Thiessen (Amelanchier alnifolia) and Regent (Amelanchier alnifolia).
For Aronia, I bought the variety McKenzie (Aronia melanocarpa).
I bought two hawthorns - a ChineseHaw (Craetagus pinnatifida) Red Sun (because I grow that variety already and we like it) and a black Hawthorn (Craetagus douglassii). 
For apple, I bought scion for the variety Winter Banana, which several hobbyists describe as an apple that accepts pear scion.  I used Winter Banana as an interstem graft, either onto Bud-9 highly dwarfing rootstock, or onto a branch of an existing established multigraft tree, this branch being WineCrisp.
This was a challenging year for everyone, and more so for me due to health issues.  I was unable to care for some of my garden plants for a while, including these grafts.  I actually misplaced a couple of them, finding them when I cleared out a patch of snowpeas that had overgrown them.   However, there are a few results that I wanted to share.
Neither of the grafts onto Serviceberry grew.  The understocks did grow, so at least I have some Serviceberry plants to play with next year.
Of the Craetttagus, the Euro pear on Chinese Haw took and grew quite well.  The pear graft had about 2 feet of growth. 
Here is that graft.  It's a little uglier than my apple grafts onto apple, but the scion still seems happy.
The graft on Black Hawthorn did not take.   The Black Hawthorn plant grew nicely, so I might try again next year.
The graft on Aronia was Asian pear.  Interestingly, that was one of the ones buried under snow peas and other plants, wasn't watered all summer, and I just discovered it.  Despite all of that, it was alive and had about a foot of growth.
That leaves the grafts of Euro pear with Winter Banana apple interstem.  The one on Bud 9 did not take.  The Winter Banana did grow.  The one on the existing tree did take.  That only grew a few inches, whereas my graft with Winter Banana but no pear scion grew a couple of feet.
I don't know what any of this means as far as how they will do next year.  I certainly hope that other aspects of 2021 are better than 2020 has been, and I can continue to get into the garden and care for these.  My plan now is to replant the Aronia / Pear graft into a container where it will get more TLC.  I think I'll also cut the Winter Banana / Pear graft off and re-graft it onto a Bud - 9 or Geneva 222, whichever I have available, to see how it does with the healed and viable pear/apple graft.  One thing, I never took off the plastic strips, so there may be some constriction of the grafts.  That doesn't usually hurt anything.  I took them off today.
I hope this provides some information for others as far as potential compatibilities.  I don't know if these will lead to healthy mini or dwarf trees, or what the fruits will be like.  I read that there are some German amelanchier rootstocks for pears that work out pretty well for pear production and dwarfing, but I didn't know where to get them.  As for aronia, I read that the aronia stem stays small and the pear stem becomes larger - I don't know about the cultivar effects for that.  We'll see what happens.
September 30, 2020
8:06 pm

John S
Forum Posts: 966
Member Since:
March 16, 2015

Offline
September 30, 2020
9:04 pm

jafar
Forum Posts: 442
Member Since:
March 16, 2015

Offline
Thanks for sharing Daniel,
I have Hosui on a Hawthorn, with I think Old Home interstem that's survived for 12 plus years.  It has very little growth but doesn't get adequate fertilizer or water.   A fellow forum member gave me the hawthorn because its super hardy and I believe withstands drought and wet feet.
Back then I also experimented with Winter Banana as an interstem for pear on apple and Fertility pear onto apple.  Those weren't long lived unions if I recall, but I did get some Fertility pears grown on my apple tree and they were pretty good.  Can's say the same for Winter Banana.  I don't care for it for eating, and don't see the appeal other than being a good looking apple and widely graft compatible.
At my current place I have Shipova on aronia, as well as Conference, Ayers, and Honeysweet.  None of them have fruited but I think they've survived and grown for 2 or 3 years and some flowered this spring.  The Conference leaves have rust on them now.
The graft unions on all these aronia ones are pretty crazy, but they are unsupported and they survived the crazy wind storms.
October 1, 2020
8:56 am
DanielW
Clark County, WA
Forum Posts: 440
Member Since:
June 21, 2015

Offline

October 26, 2020
8:23 pm

Rooney
Forum Posts: 412
Member Since:
March 25, 2015

Offline
On an older and now fruiting seedling pear I have my early Vashon japanese pear, one apple 'palmetta', one pure 100% sorbus and this pictured mixture of sorbus & cotoneaster (aka: sorbocotoneaster) now having turned red. (next to a dime) -All of them have been fruiting well for years now. In order of largest to smallest fruits both pears are large, the hybrid apple intermediate, and both the last two with sorbus in it may be considered smaller than aronia fruits.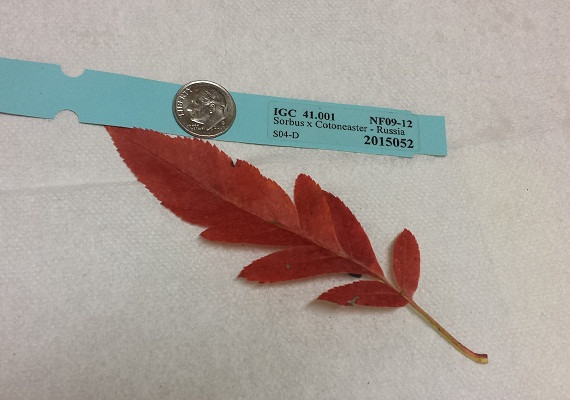 Those of fruits with sorbus in it are worthless, but because none are ever seen forming new trees (walking) I think better stocks for pear dwarfing could be made out of the above. It's grafted up at 4 foot high and wants to spread rather than grow tall like the pears and the way the 100% sorbus branch does. This year I am getting seeds of the same thing from a friend in Alaska where his grafted 8 foot high on another sorbus survived interior Alaska both the last two winters.
November 1, 2020
4:57 pm

John S
Forum Posts: 966
Member Since:
March 16, 2015

Offline
I have grafted winter banana onto malus fusca, the native crabapple, twice.  It wasn't reallly completely compatible and doesn't fruit.  I don't like winter banana that much, but the main benefit of it is that it is an outstanding pollinator.
I have grafted many pears onto hawthorn. Almost all of them took and fruited.  A couple didn't.
I have grafted pears onto aronia.  Worked pretty well. Not as productive as pear on....
Quince, which is my standard.
I have grafted pear onto photinia. It took , but wasn't productive.
Pear on quince is small and productive, as long as the first pear is quince compatible. I don't see any reason to switch, since I get it free every time I prune.
Hawthorn is also free, because the birds give it to me.   It is  thorny and not quite as compatible. It is less comfortable to graft onto a thorny seedling.  I have so many pears! I don't need more.
John S
PDX OR
November 4, 2020
4:52 pm
DanielW
Clark County, WA
Forum Posts: 440
Member Since:
June 21, 2015

Offline

November 4, 2020
6:26 pm

Rooney
Forum Posts: 412
Member Since:
March 25, 2015

Offline
...sorry in advance for getting in the midst of this question to John but something I found out from getting 5 clones of quinces from the repository that were 24 inches of good cuttings. ..After receiving them and when they never rooted it became clear that all the quinces used as rootstocks by the old nursery trade per cultivar were selected from a pool of easy to root cultivars. I have seen that said in nursery lists of available cultivars after the fact. I also note that my dwarfing quince-c is very easy. Simply putting a wooden clothes peg around a live upright shoot seems to work to draw out and form roots that are already there. Which is completely opposite of the 5 kinds I got.
December 2, 2020
8:57 pm

John S
Forum Posts: 966
Member Since:
March 16, 2015

Offline
My pear fruits are all the same size that you would see in a grocery store. They're just better tasting and more nutritious. They also don't have pesticides  or herbicides added to them.
Almost all of my quinces that became seedlings were from Crimea. I have had others from other varieties too. I just plant them in late fall.  I have too many actually.
John S
PDX OR

Forum Timezone:
America/Los_Angeles
Most Users Ever Online: 232
Currently Online:
5 Guest(s)
Currently Browsing this Page:
1 Guest(s)
Top Posters:
DanielW: 440
Rooney: 412
Reinettes: 214
davem: 151
sweepbjames: 140
Larry_G: 95
jekahrs: 78
Dubyadee: 75
GH: 67
buzzoff: 57
Member Stats:
Guest Posters: 0
Members: 637
Moderators: 5
Admins: 1
Forum Stats:
Groups: 1
Forums: 4
Topics: 656
Posts: 4520
Newest Members:
leliacooney29, BrandyAndy, margartchambless, james67, eltonhutchins09, LMcGarry, hessetta, Tracker, PalouseCider, ebruckner
Moderators: John S: 966, Marsha H: 2, Viron: 225, jafar: 442, portlandian: 1
Administrators: Idyllwild: 26