jekahrs
80 Posts
My apple tree has had what appears to be two different diseases (See pics). I suspect is cedar rust (lightly spotted leaves) which I understand is more a nuisance than anything. The other is that many of the new tips that appear turn silvery and then die. Both of these diseases have been with the tree for a few years, but this has not seem to have affected the production. The main issue has been coddling moths. Any insight on these pics?
Also, I have proceeded to reduce my apples to one per spur, which is a new thing. I did this because my fruit has been way too small, and I intent to use fruit socks and it doesn't make sense to put so many socks on fruit that becomes June drop. The question is what activates the apple maggots and/or when should I start to sock the apples? They seem a little small for the socks right now but what do I know?
Thanks in advance!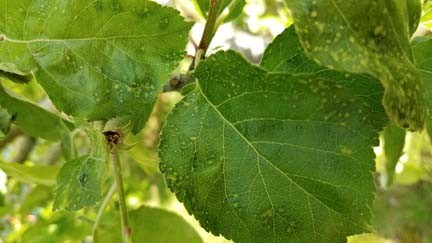 John S
PDX OR
2593 Posts
I think putting the socks on when they are marble sized makes sense. This is usually starting about now, depending on the tree.  Many an orchardist has waited too long and merely protected the codling moth inside the fruit.
John S
PDX OR

jekahrs
80 Posts
I started today as this weekend will be above 80 which I figure is a good indication of hatch. The fruit soxs seems so ill fitting at this point. I pull the sock over the fruit as best as possible and then wrap the wide opening around the base of the fruit. I then pull the tip of the fruit sock out a bit so there is space for the apple to easily grow. Will finish by Friday hopefully. 
I didn't check to see if there was a U-tube video on fruit sox talking about how to make it successful. I figure to spray heavy kaolin on the tree/sox in a week. Really trimmed the fruit so hopefully it will be bigger with less bugs. If this fails I will try non-organic next year. 
Tired of losing my entire crop to the stupid bugs.
Forum Timezone:
America/Los_Angeles
All RSS
Show Stats
Administrators:
Idyllwild
Moderators:
John S
Marsha H
Viron
jafar
portlandian
Top Posters:
Rooney: 686
DanielW: 519
PlumFun: 495
Reinettes: 375
davem: 312
Dubyadee: 222
gkowen: 218
sweepbjames: 212
Larry_G: 151
quokka: 148
landonmacintyre
kdnsusannah
sergiopolding
reginaldbraddon
ofeliaamato612
jonasstricklin
andranicolai
zitawahl19222
wallysundberg
charispitts8
Forum Stats:
Groups: 1
Forums: 4
Topics: 2811
Posts: 15717
Member Stats:
Guest Posters: 0
Members: 7126
Moderators: 5
Admins: 1
Most Users Ever Online:
232
Currently Browsing this Page:
1
Guest(s)