A method of harvesting and eating Medlar
Medlar

John S
1044 Posts
1
November 25, 2021 - 9:45 am
I was reading an  article from the Home Orchard Education Center-Tonia's newest take on the HOS arboretum.
I was inspired to use this set up to eat my medlars.  I harvested them when close to falling off.  Then I gathered some extra cardboard boxes.  I cut them so they are about 2-3 inches tall, so I have great access to the medlars.  I put it in my garage so it's cool and they can gradually ripen/blet.  It's working quite well. Squirrels don't get them, and I don't have to forage in the dark and wet under plants. Nor do I have to get up on the ladder more than once.
John S
PDX OR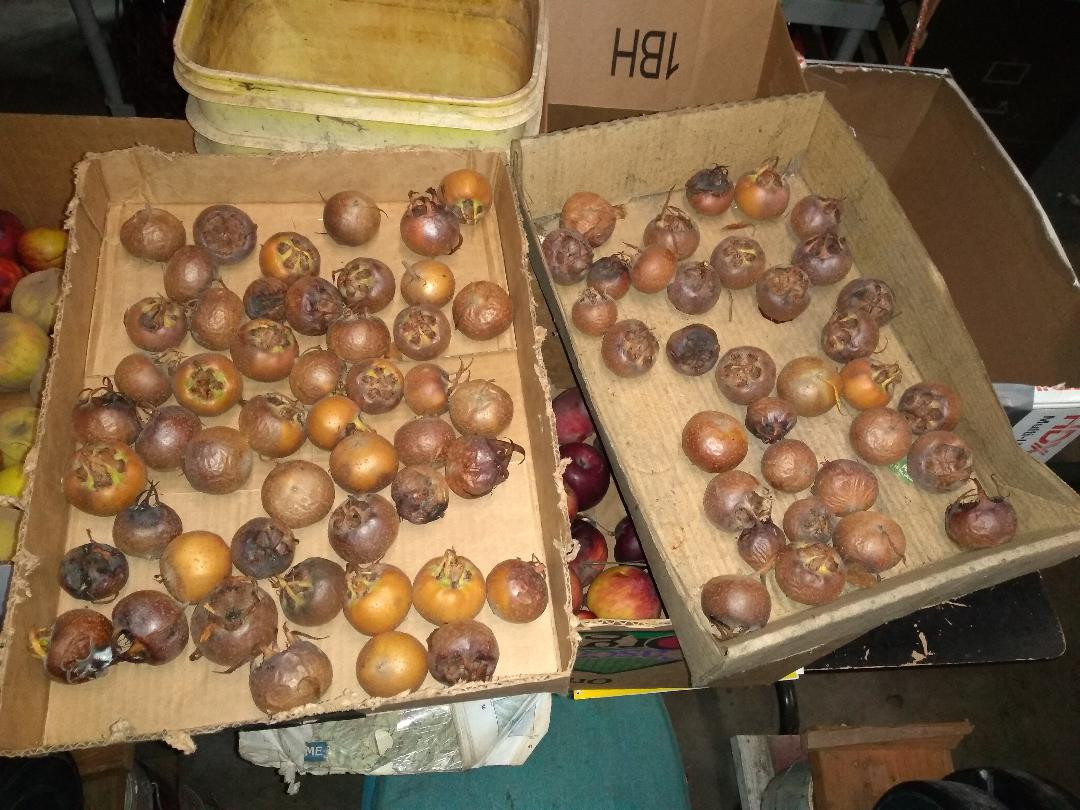 Larry_G
115 Posts
2
November 26, 2021 - 12:25 pm
I was given a couple of yogurt tubs of these a few years ago, fully soft and ripe.
By the time the pips are dug out and the "blossom" end is removed, a little over half the fruit remains.
Removing the pips is like removing peanut pieces from chunky-style peanut butter: messy.
This went, peelings and all, into the auger-type juicer where it ground the peelings and pulp to a
smoothish consistency, I used it for a sandwich spread: peanut butter-and-medlar sandwiches.

John S
1044 Posts
3
November 26, 2021 - 10:17 pm
Cool idea, Larry G. 
I just eat the fruit as it is and spit out the seeds.
John S
PDX OR
Forum Timezone:
America/Los_Angeles
All RSS
Show Stats
Administrators:
Idyllwild
Moderators:
John S
Marsha H
Viron
jafar
portlandian
Top Posters:
Rooney: 481
DanielW: 476
Reinettes: 251
davem: 173
sweepbjames: 162
Larry_G: 115
jekahrs: 81
Dubyadee: 80
GH: 70
buzzoff: 60
joyglover95849
memberson33
laurencebloodswo
taniastallcup3
sebastianmcrae3
kieragrogan1410
damonstarks5
louannebecnel
nestormusquito9
sherritedeschi6
Forum Stats:
Groups: 1
Forums: 4
Topics: 712
Posts: 4938
Member Stats:
Guest Posters: 0
Members: 1439
Moderators: 5
Admins: 1
Most Users Ever Online:
232
Currently Online:
phillipphester
,
euniceblamey661
,
addiedanforth9
Currently Browsing this Page:
1
Guest(s)