Topic RSS

Planning for 2016. Water Storage.
December 29, 2015
9:28 pm
DanielW
Clark County, WA
Forum Posts: 247
Member Since:
June 21, 2015

Offline

Im not in the survivalist mode, but I like to plan ahead.  In winter our rain makes us forget the hot dry summer.
There's no way to know, but I read 2016 will be hotter and dryer than 2015, which was rather hot and dry.  I spent a lot of time watering.
I'd like to keep the orchard and veggie garden producing.    I've  been putting down a good layer of wood chip mulch.  I get them by calling an arborist in my neighborhood who must pay to dispose of them, so he's happy to dump an occasional truckload in my driveway.  Now we have a massive fir tree that fell over, and I have to hire someone to remove it.  Im hoping they will chip what they can, which will be a lot.   I will miss that tree.
The other thing I was thinking about was water storage.  I have a 50gal drum that I moved from my old house, and installed today.  Very easy. I dont think 50 gallons will go far, but every little bit helps.  Now I'm looking around for food grade drums and fittings.  It will be a nice project.  Maybe aim for 200 gallons.
We do have a well.  In the summer, the sediment is so thick, we need to change filters monthly.  Especially if we use well water for gardening.  Given the cost of filters, if I can find some cheap food grade drums, they could pay for themselves in a few months by storing water.
Im not sure I want to bring up peecycling, but reducing 3-gallon flushes by 1 per day for a month, is 90 gallons per month.   I suppose I could buy newer lower flow fixtures, but they  are not all that cheap.  If I was smart, I could re-plumb the toilets to use saved rainwater...  but I prefer to use that for the garden.  We are on septic system with drainage field, so it goes into the ground in a sense, anyway, just a matter of where.
Anyone planning for potentially dry summer?  What are you doing?
December 29, 2015
10:01 pm

John S
Forum Posts: 409
Member Since:
March 16, 2015

Offline
Good topic, Daniel.
I know that we have a lot of orchardists who are full on survival preppers, but a lot like me who see things gradually changing and want to adjust to how it is changing. I don't imagine a violent revolution, but a gradual adjustment in which people will start to value how amazing nature is and how we can find a way to work with it, and share it with our fellow human beings and wild creatures.  I apologize if I'm making someone uncomfortable by talking about that.  
I have seen many interesting models of reusing grey water, storage tanks, and planning the yard for more heat and sun. I know we've had the hottest, driest 3 summers in the last 3 years! Where does that lead us to? Kind of scary.  
One thing I try to do is create a food forest, so that the sun is used mostly by semi-dwarf trees 10-15 high that can use our sun. Vegetables, mushrooms, and bushes are placed strategically in areas in which they can produce with the amount of sun they get.  We have strategically placed raised beds on a drip system for annual vegies, but we grow a ton of wild/feral/weeds as green leafies. 
I completely agree with mulch. I might try to grow a species like chicken of the woods or hypholoma capnoides on that fir tree.  I'm still a beginner, but that's what nature does with large trees that fall over. They give us medicine and improve the diversity and quality of the soil. 
I put heat loving plants like cactus, palms, mulberry, quince, grapes, figs, bay leaves, and pomegranates out front in the hottest sun because they love it.
John S
PDX OR
December 30, 2015
1:42 pm
DanielW
Clark County, WA
Forum Posts: 247
Member Since:
June 21, 2015

Offline

John, you make excellent points.  
I feel like if we can learn to adapt to local conditions and changes, then we can enjoy our home orchards much more, and also save costs and grow things we would not get to eat otherwise.
Im hoping to save enough water to delay using the well for watering by a few weeks or month at least, and if there are any summer rains, even more.  At least, reduce well water use and the expensive filters.  I do have a bypass for part of the yard, that doesnt use filters, but the orchard is on the side of the house that I cant bypass the filter.
Plus rain water has fewer salts, so maybe better.
I was thinking about the 5-gallon bucket waterers that I see around town.  Those might reduce watering time a bit, not sure if they save water.
When my trees are more mature like yours, I hope they will need less water.  Some are getting there, but also there are some new ones.
January 2, 2016
10:59 pm

John S
Forum Posts: 409
Member Since:
March 16, 2015

Offline
I received a lot of my 5 gallon buckets from Asian restaurants, who had many buckets of soy sauce and oil that they were getting rid of.  Obviously, they are food grade and ok for water.
A technique that I thought was fascinating that is apparently traditional to the southwest is the use of an olla, which just means a large pot in Spanish. It is made of clay and apparently buried in the ground, with a filter on top? Water is poured into it from above ground and it retains the water, near to plants' roots, which can use the water that is slowly seeping out of it all summer long.  This could prove very useful in our long summers, as below ground evaporation is nearly nil.  
I was also thinking that oyster mushrooms make great living mycelium threads that are often used in filtering water.  Perhaps some design could use them actively. I could even envision some bizarre bucket of oyster mushrooms filter for a roof water system. I am currently growing types of oyster mushrooms in buckets.
JohN S
PDX OR
January 5, 2016
3:21 pm

DuckRyder
Forum Posts: 1
Member Since:
January 5, 2016

Offline
I don't recommend rain barrels.  A single rain barrel will save you about 1% on your water usage per bill cycle.
Lets do the math:
Portland measures water usage in CCF or basically 100 cubic feet of water.  This translates to 748 gallons of water.
Look at your water bill.  How much water do you use in the winter and how much do you use in the summer.  For me, I use 6 CCFs in the winter and 12 CCFs at a peak in summer.  So my watering usage is about 6 CCFs for two months (two month billing cycle).
That equals about 4488 gallons (6CCF * 748Gallons/CCF) of water into my garden.  So a single 50 gallon rain barrel will save me about 1.11% (50/4488) of water.
This 1% assumes you are using a drip irrigation setup.  If not, then your savings will be even less.
This is how much water I use after I stopped watering the grass and put everything I wanted on drip.  Overhead watering used to run me 11 CCFs peak in the summer!  By switching to drip it save me almost 50% off my garden water usage.
January 6, 2016
7:04 am

cjb802
Forum Posts: 3
Member Since:
January 6, 2016

Offline
In my opinion (which I claim can be backed up with facts if I spend more time on the matter) ponds are the cheapest and most simple method of storing water for irrigation purposes.  The cost per gallon of using tanks for an entire season's worth of water storage will be extremely expensive. Moreover, some would argue that a better place to store water is in the soil itself; however, increasing water storage in the soil in the PNW with our (already) high organic matter content is not going be easy either.
I only use tanks for temporary storage for a high flow pump which pressures my drip irrigation lines.  I intend to use a pond for bulk storage of water (approximately 700k gallons) which should be more than enough for the summer and account for any evaporation losses.
January 6, 2016
11:57 am
mtriplett
Clackamas County, Oregon
Forum Posts: 18
Member Since:
April 24, 2015

Offline
Here's our temporary solution:
Each tank collects 275 gallons, which gets each tree through the summer.  The funnels on top were made with old pallets & leftover greenhouse plastic (thanks Mark!).  We'd planned on moving them to set up some garden beds, but with the summer forecast being for more heat/dry, we're going to water them one more year.  I'm pretty sure they'll be established enough to go without after this year.  THEN we'll get our garden beds set up...
January 6, 2016
10:26 pm

John S
Forum Posts: 409
Member Since:
March 16, 2015

Offline
April 9, 2016
8:06 pm

redberry
Forum Posts: 14
Member Since:
March 24, 2015

Offline
Hi:
I am finally getting a chance to respond to this topic.  For many years now, I have collected water from a polycarbonate patio roof cover.  (I am a bit wary of collecting water from asphalt-based roofs.)  I use this water (assuming there are "refills from the sky) to get me through June for watering my vegetable plants/seedlings.  My original water harvesting container was a 30-gal garbage can with a spout attached to the bottom and a overflow pipe.  Right now this one just stands on the patio near my greenhouse and gets filled from winter rain.  In the summer, I use it to store the water that I remove from my water trough tanks (mini-water gardens) when I refresh the water at intervals.  I then use the water for the yard.  I have more substantial rain barrels that I purchased and are no longer sold.  I liked them because they had adequate overflow spouts for heavy rain whereas a lot of commercial ones don't have adequate drainage for downpours.  I also have another homemade barrel which I can attach in-line with the other barrels.  It isn't a perfect set-up b/c the links are a bit leaky since I didn't glue it together.  I wanted the ability to move things as needed.  I clean the barrels every summer.  (Excuse the mess in the patio...this is an old picture.)  
redberry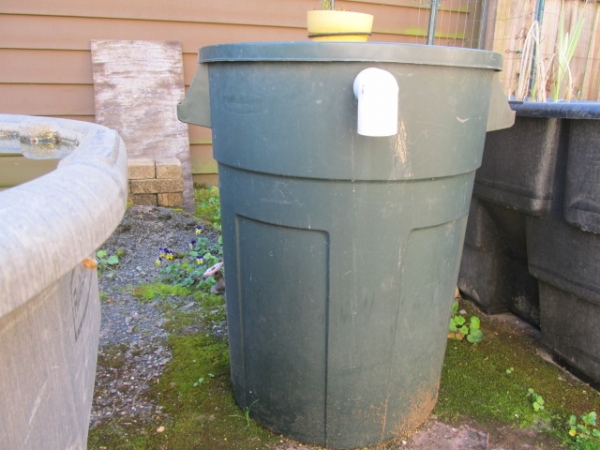 April 15, 2016
11:51 pm

John S
Forum Posts: 409
Member Since:
March 16, 2015

Offline
Another thing I do is just make sure that the right amount of leaf cover will absorb the sunlight and heat for each microclimate. My front of the house is hot-I grow grapes, figs, mulberry, quince, cactus, palms, bay tree, asparagus, citrus, pineaple quince.  
I try to make mostly shading the sun with the plants that like it, and I allow less complete sun cover in shadier areas.  Stops over drying and lets the plants live where they want to.
John S
PDX OR
September 7, 2017
5:25 am

DonnaRHellman
Forum Posts: 2
Member Since:
September 7, 2017

Offline
Nice attempt. We have also tried this method. This caused water stagnation and blocked water drainage system. We went up calling plumbing repairs Morris county NJ immediately to solve the problem and take us out of this problem asap!
September 25, 2017
8:12 am
DanielW
Clark County, WA
Forum Posts: 247
Member Since:
June 21, 2015

Offline

Since 2017 turned out hotter and drier than previous years, I think it's worth thinking about what to do for 2018.  There is no telling what next year will be like.
Last year we installed a 275 gallon plastic UBC tote.  Those are available on line and some local places, recycled from food processors.  It is filled up by one or two good heavy rains, or a few more shorter rains.  We are on a hill, and a lot of my trees are downhill from that.  We used it more for the chickens and ducks, and for the fruit trees.  It turned out to be reasonably convenient, not enough for all of the trees by helped for nearby ones.  Plus, we have a 50-gallon plastic pool for ducks, which they foul (not fowl) very fast, so that gets drained with the water used for fruit trees as well.  I think that saved some of the trees.  I think it also helped the well water filters last longer.  Those filters are expensive, and getting them to last longer is helpful.
I'm debating adding another UBC tote.  They fit into my small size pickup truck, barely.  They are not hard to set up with a kit from the hardware store.  
I need to rethink mulches.  My fruit trees are very well mulched, from fall leaves.  I offer to rake up neighbor leaves and fill my truck with them, which go onto the tree areas and vegetable gardens.  In the summer, I did not mulch the vegetables, because I wanted the sun to warm the soil.  Maybe I should when it gets hot, less water to use.  But if the weather is not hot, the sweet corn and tomatoes may not be as productive when mulched.  I also ask arborists for their chips, if I happen on a truck working in my neighborhood.  Those last longer than leaves, and keep the weeds down very nicely

.
September 25, 2017
11:55 am

jafar
Forum Posts: 302
Member Since:
March 16, 2015

Offline
September 26, 2017
8:26 am
DanielW
Clark County, WA
Forum Posts: 247
Member Since:
June 21, 2015

Offline

September 26, 2017
1:00 pm

jafar
Forum Posts: 302
Member Since:
March 16, 2015

Offline
Good question Daniel.  I hadn't considered that.  What influenced the arrangement is that I didn't want my emitters clogged, and the easiest place to tap my water line was under the house below the kitchen sink.  
In that area I have to choose between raw well water straight from the pressure tank, or fully treated.  Sometimes my raw well water looks like Thai iced tea.  Not suitable for going through anything but a naked pipe/hose.

Forum Timezone:
America/Los_Angeles
Most Users Ever Online: 26
Currently Online:
7 Guest(s)
Currently Browsing this Page:
1 Guest(s)
Top Posters:
DanielW: 247
Rooney: 102
davem: 73
Larry_G: 59
Reinettes: 51
Dubyadee: 32
caseroj: 30
Delvi83: 22
sweepbjames: 21
mtriplett: 18
Member Stats:
Guest Posters: 0
Members: 292
Moderators: 5
Admins: 1
Forum Stats:
Groups: 1
Forums: 4
Topics: 307
Posts: 1945
Newest Members:
ocnblu, chuckwagon, Tailsbunny, Dana hoaglund, tlb, tmk, lenorarwalton, danext61, Bvkenney, Charles Baldwin
Moderators: John S: 409, Marsha H: 2, Viron: 143, jafar: 302, portlandian: 1
Administrators: Jesse: 42